Amazon Fire TV Stick, Google Chromecast, or Roku Streaming Stick -- which is best?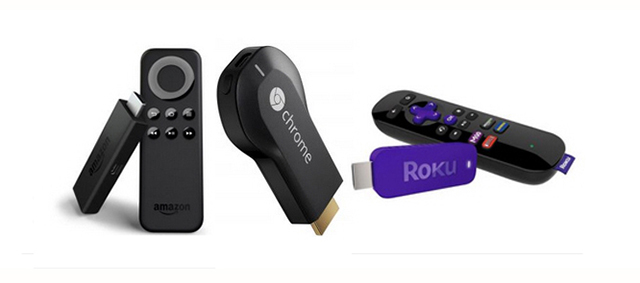 As my colleague Brian Fagioli said yesterday when reporting on the launch of Amazon's new Fire TV Stick, there's no shortage of streaming devices available to choose from, and knowing which to go for can be tricky.
If you use Chrome, have an Android phone, and love YouTube, then Chromecast is probably for you. If, on the other hand, you are an Amazon Prime member, then the Fire TV Stick is a good choice, especially as it can currently be had for just $19. The Roku Streaming Stick has over a thousand channels to choose from and loads of options. Still not sure which to go for? Let's take a look at what they all have to offer.
Price wise there's little to differentiate them. As I say, if you're with Amazon Prime and act swiftly, you can pick up a Fire TV Stick for $19. However, it usually retails for $39. Google's Chromecast can be found for as low as $27, while Roku is the most expensive device at $48. There's a $20 gap between the Chromecast and Roku's product, so if you want the best savings, then Google's stick looks preferable, although for the extra money, Roku includes a remote (as does Amazon Fire TV Stick).
All three devices can output video at 720p and 1080p, and the Chromecast and Roku also offer 1080i. The Amazon Fire TV Stick doesn't, but does throw voice control into the pot, which is a nice extra.
Amazon and Google's streaming devices work on computers, smartphones and tablets, while Roku's offering only works with mobile devices.
Content of course, is a huge factor when choosing which device to go for. The Fire TV Stick gives users the likes of Amazon Instant Video, Crackle, Flixter and Hulu, while Chromecast offers Crackle, Hulu, Netflix and Viki. Roku's device provides access to Amazon Instant Video, Blockbuster on Demand, Crackle and Flixter. To name just some of the choices. They all offer different news and sports viewing as well.
To help you make the right decision, you can compare the three devices using the below interactive graphic put together by FindTheBest.
What streaming device do you use, and why?
Image Credit: Minerva Studio / Shutterstock