Paragon Hard Disk Manager Suite 15 [Review]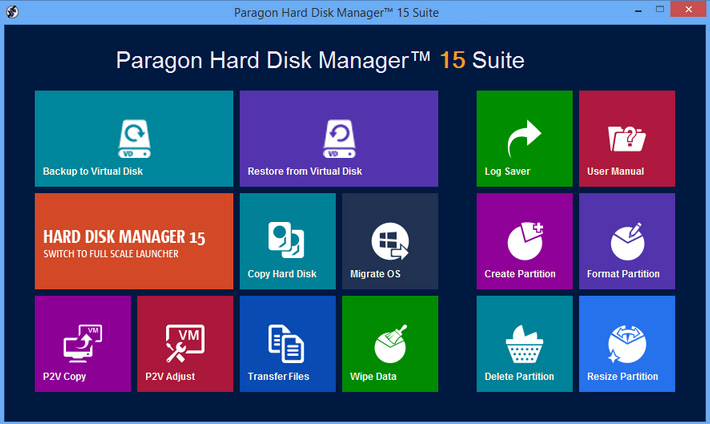 Keeping your hard drive running smoothly isn't always easy. From partitioning to file and image backups, data wiping to disaster recovery, there are many different tasks involved.
You could research every aspect individually and build up a library of software to handle all your drive-related demands. Alternatively, you might just buy a copy of Paragon Hard Disk Manager Suite 15, which aims to provide everything you'll ever need in a single package.
A power partitioning engine can set up your drive, split or merge partitions, redistribute free space, recover lost partitions and more.
You're able to back up files, partitions or complete drives to local or network storage, CD/ DVD/ Blu-ray discs, network shares or FTP/ SFTP servers.
There are bonus tools to securely wipe data, copy or clone disks, while a choice of bootable recovery environments, (DOS, Linux or Windows PE) help to get a broken PC working again.
Paragon Hard Disk Manager Suite 15 (HDM) extends the package further with SSD wiping support, file-level backup to virtual containers (pVHD, VHD, VHDX, VMDK) and a simpler Embedded Recovery Media Builder.
It's a lengthy list of features, but how do these all work individually? We put Paragon's latest build to the test.
Getting started
Hard Disk Manager Suite 15 opens with a simple Windows 8-style front end menu, presenting its key functions -- backup, restore, copy, wipe, more -- in various colorful tiles.
This "Express Mode" is extremely basic. You can't resize or arrange the tiles, add new ones or remove any you don't need. There's no "search" to help you find a feature. The tiles won't even reorganize themselves if you resize the window; they just disappear out of view.
Fortunately, clicking the "Hard Disk Manager 15" tile launches the full program, giving you complete access to all of its functions.
This interface opens with various panes showing your drives, partitions, and their key details (file system, volume, size/ used/ free). Clicking any volume displays more low-level information (sectors per cluster, partition ID, NTFS version).
Select a drive or partition and a Commands pane lists some of your available actions (format/ delete/ move/ resize partition, for example). Right-clicking a volume also displays related commands, or you can browse the menus -- "Backup & Restore", "Partitioning", "Copy & Migration" -- for the functions you need.
Subdued colors, a lack of graphics and flat 32×32 icons mean this all looks rather ugly.
Help is poor, too. We'd hope that pressing F1 at any point would display detailed context-sensitive help on whatever you're doing. Instead all you see is a message to "visit the product's home page and download the user manual". Why not bundle it with the program, or at least provide a clickable link?
Still, while HDM's interface could be much better, its functions are organized sensibly and -- with a few exceptions -- easy enough to find. It won't take long before you're using it for real work.
Partitioning, backup
Hard Disk Manager Suite 15 can handle all the partitioning basics, simple wizards allowing you to create, format and delete partitions as required.
The program gets more interesting with its "Express" wizards. If you're not sure about the low-level details -- whether you need a primary or extended partition, where it should be, how many you can have -- HDM's "Express Create" wizard will scan your current setup and intelligently make the safest possible choices.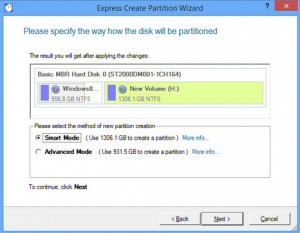 Some of HDM's advanced partitioning tools could be applications on their own. The Split Partition Wizard not only splits one partition into two, but it also moves files to the new volume, and can even redistribute free space when you're done (great for separating OS/ applications and data).
If you'd like to keep full control, though, that's just as straightforward. Right-click a partition, select "Move/ Resize", enter "free space before" and "free space after" figures and HDM will move your partition accordingly.
Backup options enable you to back up drives, partitions or (new this time) selected files and folders to virtual drive containers (pVHD, VHD, VHDX, VMDK).
The last is interesting as it offers a mix of benefits. You're able to initially create a sector-based backup, which can be very quickly restored after some data disaster. But you can then supplement this with file-based incremental backups of whatever interested you most: the best of both worlds.
Elsewhere, the old "Smart Backup" shortcuts to save your emails, documents folder etc. are still available, although now classed as "legacy" features because they only use the old PBF container (click Tools > Legacy Features to view them).
You don't quite get as many options and settings as you'd expect from a specialist backup tool. There are no pre/ post backup commands, no per-job include filters, no cloud support beyond FTP/ SFTP servers. And performance was nothing special, with backups taking 25 percent longer than Acronis True Image 2015 on our test system.
There's still plenty to like here. You can run full or incremental backups, set compression levels, add password protection, then restore some or all of an image, from the program or some excellent recovery discs, even to different hardware.
In our experience HDM delivers solid and reliable backups across all hardware and drive types, too, and that remains a major plus.
More functions
There are several reasons why you might want to copy a partition or drive, and Hard Disk Manager Suite 15 probably covers them all. You get wizards to copy volumes, clone drives, migrate your current system to another drive (copy the operating system, selected files and folders), even create a VirtualBox or VMWare virtual machine from a physical drive. As usual, the interfaces are plain and ordinary, but they're also fairly easy to use.
The Wipe Wizard is a simple tool which securely deletes free space or entire drives (and that includes SSDs in this new edition). There's only one built-in algorithm (DoD 5220.22-M), but experts can create their own custom wipe method with user-definable masks and pass counts, which makes it extremely flexible.
Once the deleting is done, a built-in sector viewer/ editor helps to confirm its success. If you know what you're looking for, then the tool can also be used to inspect raw boot sectors, partition tables and other drive structures. Unusually, it's also able to save selected sectors as a file: that's probably the most complicated way to undelete something that you can get, but it's still useful to have available.
The program includes low-level error checking tools to scan a drive's file system and surface for problems. We're not sure these do much more than chkdsk, but there's no harm in having them around.
Scheduling is a highlight. Complete some wizard-based action (backup, copy, wipe free space, whatever it might be), click "Save to Scheduler", and you can have it launched automatically when your system starts, when you log on, every day, week, month, at regular intervals, and more. This isn't quite as flexible as it might be -- you can't run tasks at defined intervals of less than a day, or at system shutdown -- but it's probably good enough for any major backup job.
We've always been fans of Paragon's bootable recovery environments, too, and the most significant new feature in Hard Disk Manager Suite 15, Embedded Recovery Media Builder 3.0, makes them easier to create than ever.
At last, there's no more need to manually download extra components to create your disc. As long as you're running Windows 7 or later, the Recovery Media Builder can create a Windows PE or Linux recovery environment, then save it to disc, USB key, or (for Linux) an ISO image ready for use elsewhere.
These don't just run a cut-down version of the main product, either. The Linux disc includes tools to recover lost partitions, fix common boot problems, access and restore your backups, set up and work with your network, transfer selected files to some other partition or drive, or securely wipe your chosen disk.
Whether these add much value to Paragon Hard Disk Manager Suite 15 is open to question -- you can get most of this functionality for free in Paragon Rescue Kit -- but they're still a welcome addition to a powerful and professional toolkit.
Verdict
Short on new features, and desperately needs an interface overhaul, but there's a lot of powerful functions, and Paragon Hard Disk Manager Suite 15's core engine still delivers reliable partitioning/ copying/ backups across a range of drive types and file systems.
We Like
Wide support for drive types and file systems, powerful partitioning tools, new incremental file backup to a sector-based image, most tasks can be scheduled, easier to create its excellent disaster recovery disc, runs on everything from Windows 2000 up
We Don't Like
Dated interface, some functions (and the manual) are hidden away, average backup performance, no cloud backup beyond FTP/ SFTP
Overview
| | |
| --- | --- |
| Manufacturer: | Paragon Software |
| Price (RRP): | $49.95 |
| Best Price: | $39.96 (save 20 percent) |
| Platforms: | Windows 2000, XP, Vista, 7, 8, 8.1, both 32 and 64-bit editions |
| Requirements: | 250MB free hard drive space |