Amazon's Kindle e-readers learn some new tricks -- download the update now!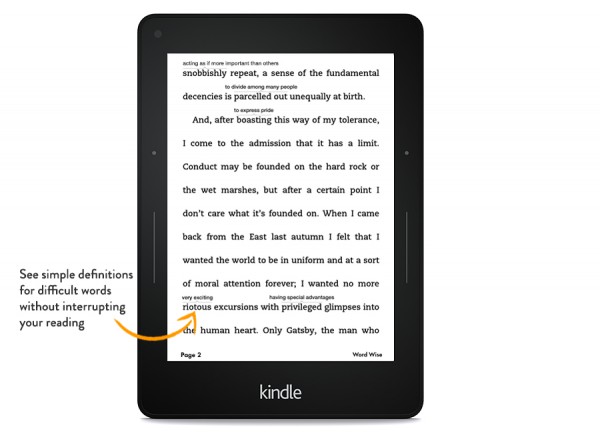 I get it -- you own a tablet and don't think you need a dedicated e-ink based e-reader. While I respect your opinion, I must tell you that it is wrong. Sure, reading a book on a back-lit LCD display is passable, but hardly a good experience. Not only can this be fatiguing to your eyes, but most tablets are unusable as a reader in direct sunlight. If you read a lot, you want to go e-ink.
So yes, there are benefits in owning an e-ink based e-reader, and quite frankly, it is affordable. Amazon's entry-level reader is a paltry $79 -- a great value. Today, the value of the retailer's newest readers increase, as an update introduces many cool new features.
"Amazon today announced a software update for Kindle e-readers that includes exclusive features such as Word Wise and Family Library. This free, over-the-air software update will be delivered automatically in the coming weeks to the newly announced $79 Kindle and Kindle Voyage, as well as the most recent version of Kindle Paperwhite", says Amazon.
Peter Larsen, Vice President, Amazon Devices explains, "we can't wait to hear what customers think about these new software features. Word Wise makes it easier for kids learning to read and readers learning English to understand more challenging books more quickly, with short and simple definitions that automatically appear above difficult words. Additionally, Family Library lets family members share books with a spouse or partner, without sharing an Amazon account".
Amazon touts the following new features:
Word Wise -- For readers learning English and children learning to read, Word Wise makes it easier to understand more challenging books more quickly. Short and simple definitions automatically appear above difficult words, so you can keep reading without having to stop and look up a word. To see the various meanings the same word can have in different contexts, just tap on the word to quickly bring up a card with definitions, synonyms, and more. You can adjust the number of definitions you see with a slider, dialing them up or down as you learn and grow your vocabulary. Word Wise is already available on thousands of titles, including The Hunger Games, The Giver, and Wonder.
Family Library -- For the first time, you can access not only your own Kindle books, but also books from the Amazon account of a spouse or partner.
Kindle FreeTime Unlimited -- For as little as $2.99 per month, kids get unlimited access to hundreds of hand-picked chapter books and early readers, all curated for age-appropriateness, so parents don't have to spend time and money guessing what their kids will enjoy.
Expanded X-Ray for Books -- X-Ray now makes it easier to explore as you read—quickly flip through all the images in a book, and use the new timeline view to easily browse the most notable passages.
Deeper Goodreads Integration -- Goodreads on Kindle now allows you to easily share your reading progress updates, add books from your Kindle library to your Goodreads shelves, and see your friends' updates, ratings and reviews when looking at a book on Goodreads.
Enhanced Search -- Makes it even easier to find what you are looking for by combining and previewing results from your Library, Goodreads and the Kindle Store on the same page.
About This Book -- See information about the book as you start to read, including its place in a series and author information, plus mark it as 'Currently Reading' on Goodreads.
If you are like me, you will not want to wait for the roll-out of the over-the-air update. Instead, you can download it directly by clicking here. If you do download it, please tell me how much you like the new features in the comments.