Firefox 34 arrives, gains WebRTC support, faster theme switching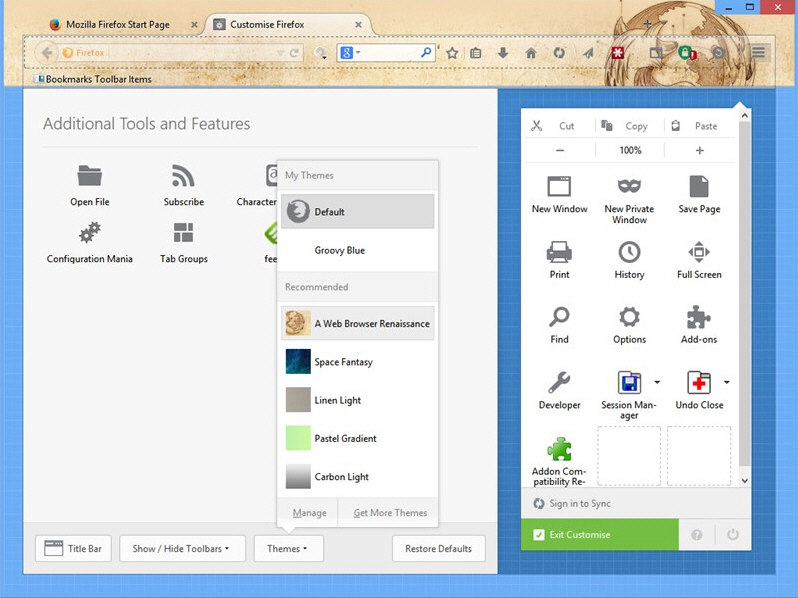 Mozilla has released Firefox 34.0 FINAL for desktop, with Firefox for Android 34.0 due to follow in the coming days.
Firefox 34 rolls out the new Firefox Hello real-time communication client and promises faster and simpler persona switching. It also includes a number of improved features, widens support for HTML5 and unveils a new WebIDE app for developers.
Firefox 34 FINAL's headline new feature is the release of Firefox Hello, the first appearance of Mozilla's WebRTC component in a stable release. Firefox Hello provides built-in support for video and voice chat within Firefox itself, and works with anyone else who has a WebRTC-enabled browser installed, which include Chrome and Opera in addition to Firefox.
Version 34 also makes it possible to switch themes directly from the Customizing mode, and comes with an improved search bar that implements HTTPS when searching Wikipedia for greater security (English US only).
The Windows release is now able to recover from a locked Firefox process that previously resulted in the 'Firefox is already running' error message, and implements HTTP/2 (draft 14) and ALPN while disabling SSLv3 -- in its place proprietary security functions are temporarily re-enabled.
A wide range of HTML5 features have been implemented, including various WebCrypto elements. Developers also gain a new WebIDE tool for creating, editing and testing web apps directly from Firefox itself.
Firefox 34 also contains all of the improvements and new features found in the unexpected Firefox 33.1 release from last month, focusing largely on increasing user privacy.
The Android build -- due to be released in the next few days -- will add mirroring support for Chromecast devices, and provides a redesigned first-run experience. One notable fix sees MP4 videos now playing on Android Lollipop devices, although MP3 audio and Flash video remain broken in this new release.
Firefox 34.0 FINAL for Windows, Mac and Linux is available now as a free, open-source download. Firefox 34.0 FINAL for Android should be available shortly.