StatCounter: Windows 8.1 is now more popular than XP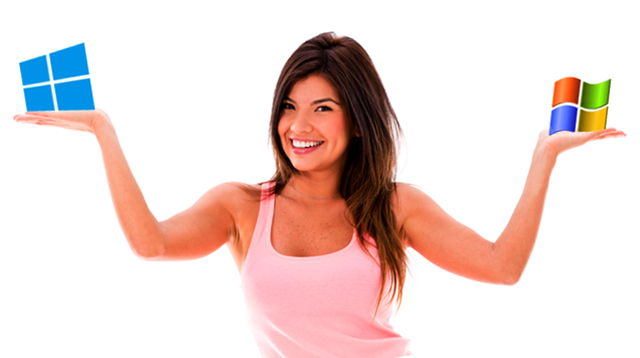 It still has plenty of haters, but Windows 8.1 is finally finding an audience. It may not be anywhere near as sizable as the audience Windows 7 commands, but after losing usage share earlier in the year, the tiled OS is finally headed in the right direction, and at speed.
Earlier today I reported on NetMarketShare's figures which show Windows 8.1 as having 12.10 percent of the desktop OS market, but now StatCounter has released its own figures which show Windows 8.1 as having just hit a pretty special milestone -- overtaking Windows XP for the first time.
According to StatCounter's figures, Windows 8.1 has 10.95 percent global share, compared to XP's 10.69 percent. Sure, Windows 8.1 is ahead by only the very narrowest of margins, but it's still good news for fans of the much maligned OS.
The independent website analytics company has Windows 7 with the usual commanding lead -- 43.9 percent.
"Following a somewhat mixed reaction to Windows 8, Windows 8.1 has made steady progress since its launch," commented Aodhan Cullen, CEO, StatCounter. "It passed Windows 8 in August and has now passed Windows XP in November. The growth trajectory for Windows 8.1 has been positive but if current trends continue it will not topple Windows 7 before Windows 10 is launched in 2015".
StatCounter's figures show global market share, but it also provides details on how well the various flavors of Windows are doing in the US and UK.
According to the latest set of figures, in the US Windows 8.1 is at 12.2 percent having overtaken XP in October. Windows 7 leads with 43.9 percent.
In the UK, where Windows 8.1 overtook XP in April, XP has declined to 4.2 percent while Windows 8.1 is currently at 13.2 percent. Windows 7 is number one on 40.4 percent.
You can view a breakdown of how well the operating systems are doing in other countries here.
The percentage differences between StatCounter and NetMarketShare's figures are to be expected, as determining usage share by monitoring visitors to millions of websites is far from an exact science, but one thing is indisputable -- Windows XP is on the way down, and Windows 8.1 is, at long last, on the way up.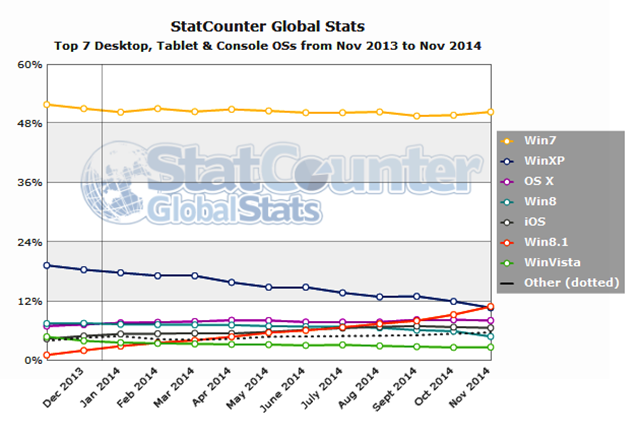 Photo Credit: Andresr /Shutterstock