US streaming devices market continues to grow, Roku leads the way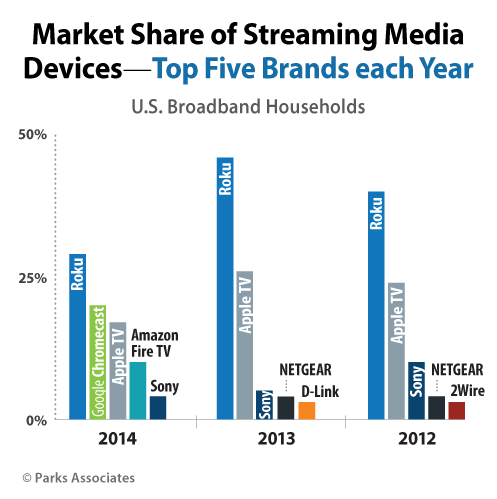 On the heals of Amazon shipping its Fire Stick, a new HDMI dongle that provides similar capabilities to the previously released Fire TV, the market for streaming devices has continued to grow. And it's also getting more competitive, as each company improves its offerings.
A new study published by Parks Associates shows that a record ten percent of US households now own a streaming device. That still seems a small number, but perspective is needed. First, it's growing, and second, some people just aren't going to buy in to this technology -- my parents wouldn't know what a Roku was, nor what to do with it.
"Nearly 50 percent of video content that US consumers watch on a TV set is non-linear, up from 38 percent in 2010, and it is already the majority for people 18-44", says Barbara Kraus, Director of Research for Parks Associates. "The market is changing rapidly to account for these new digital media habits. Roku now offers a streaming stick, and Amazon's Fire TV streaming stick leaves Apple as the only top player without a stick product in the streaming media device category".
And speaking of Roku, it continues to hold its lead in this market, though the gap is closing. Google Chromecast seems to be eating into the market share, as it sprang from nowhere to take the number two slot. It's followed by Apple TV, Amazon Fire TV and Sony.
During the upcoming Consumer Electronics Show Parks Associates will hold a "Connections" summit which will be conducted in conjunction with AT&T, Comcast and TiVo. Those companies are expected to discuss how to monetize this growing market.
Broadband providers face a future of just that -- without the lucrative TV services that they were built on. It will be interesting to see what comes out of these talks and what happens moving forward.