Digital Storm announces the ECLIPSE -- a 'Slim Gaming Tower of Power' PC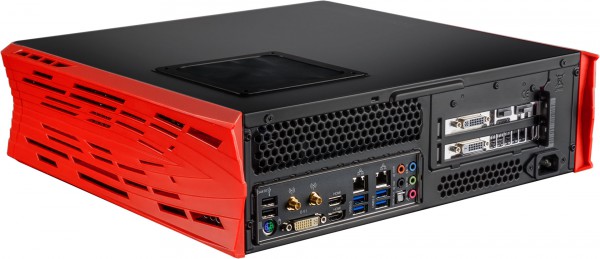 As a system-builder, I take great pride in building my own machines. Quite frankly, selecting all of your components, one by one, can be very rewarding. Unfortunately, buying piece by piece can be rather costly, adding up to more than many pre-built systems. Not to mention, it can be time and labor intensive, and many people, including myself, are very busy. It is for these reasons that I am considering forgoing a new build next year, and instead, opting for a pre-built desktop.
Let's be honest though, it can be confusing to pick a manufacturer for your new PC -- there are so many companies to choose from. Today, one such company, Digital Storm, announces the ECLIPSE -- a PC that it calls "Slim Gaming Tower of Power". Not only is the computer powerful and sexy, but starts at a very low $699. Hey, this is just in time for Christmas -- this will surely make the gamer in your life happy.
"The ELCIPSE's modest footprint (L15", W4", H14") takes up little space on a shelf or in an entertainment center in either a vertical or horizontal position. The system's chassis is constructed of reinforced plastic with a steel body. A gamer friendly design makes upgrades a snap with easily accessible components and adjustable brackets and room for extra storage. Each pre-built ECLIPSE features a full-size dedicated graphics card and desktop-class Intel processor", says Digital Storm.
Harjit Chana, Chief Brand Officer, Digital Storm explains, "ECLIPSE fills a gap in the PC gaming market. There are multiple high-end SFF systems like our own BOLT II, but fewer mainstream options focused on an affordable HD gaming experience".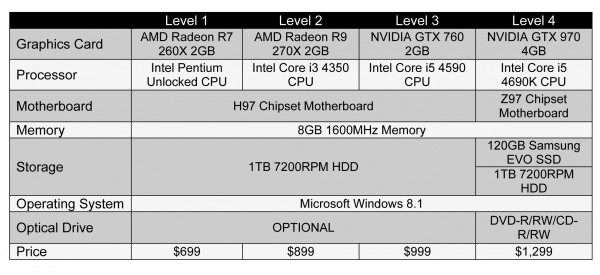 As you can see above, there are four "levels" of the ECLIPSE gaming PC. While all four are rather powerful, the level 4 model has me smitten -- I really want this machine! Luckily, they all have high-quality Gigabyte motherboards (H97N-WIFI or Z97N-WIFI). While the manufacturers of RAM may vary, Digital Storm tells me they only use top brands such as Corsair, Kingston, ADATA, and Mushkin -- all brands I have successfully used in the past.
You can buy the ECLIPSE here. For a reasonable $699, you can make the computer nerd or gamer in your life very happy this holiday season. Heck, the red color is rather festive too.
What do you think of the ECLIPSE? Are you as in-love with it as I am? Tell me in the comments.