Discover useful USB device details with Temple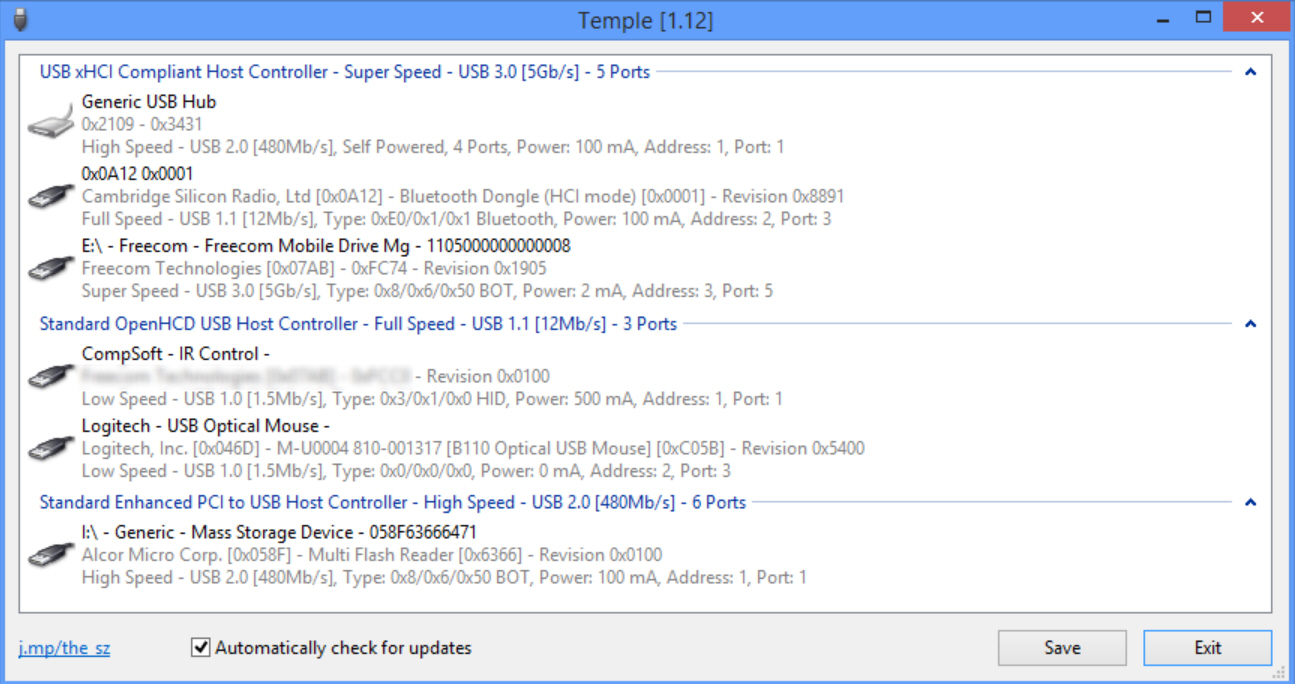 Copying files to a USB storage device is generally very easy. Plug it in, the drive appears in Explorer, drag/ drop, go do something else until the transfer is complete. Simple.
If you're moving a lot of files, though, you might want to know more. Like, does your device support USB 3.0? And if so, have you connected it to a USB 3.0 hub, to ensure you'll get the best possible performance?
Device Manager can often help out. Expand "USB Serial Bus controllers" and you might find a controller is labeled as USB 3.0. Click View > Devices by connection, then browse to ACPI… PC > Microsoft ACPI-Compliant System > PCI Express Root Complex, and expand the various hubs to see what's connected where.
This isn't exactly straightforward, though, and drilling down to the relevant details may take some time, if it's possible at all. And so it might be simpler to run Temple, a free USB system information tool which displays everything you need immediately.
The program is a single 393KB executable. Run it wherever you like and it immediately provides details on all your current system's controllers, hubs and their connected devices.
Controller information is fairly basic, but enough to be helpful. For example, Temple told us that our test system had a "USB xHCI Compliant Host Controller – Super Speed – USB 3.0 [5Gb/s] – 21 Ports".
Device information is more detailed, including manufacturer, product name, maximum speed (whether it's a USB 2.0 or 3.0 device), power consumption, device type (does your external hard drive support BOT mode?), power consumption, and device address.
This data is displayed conveniently, too. There's no hard-to-read ultra-wide table, forcing lots of horizontal scrolling to find the key information. Instead the details are wrapped around one or two lines, with no unnecessary white space, making them much easier to read.
The report can be saved as a file, too, although only in XML for some reason (no TXT option). If you're trying to help a technically clueless long-distance friend with some USB issue then this is an easy way to find out more about their system.
Temple is still very basic. Something like USB Device Tree Viewer is far more capable, displaying many more details and allowing you to control your USB setup as well (remove or restart your hardware).
Temple's value comes in its simplicity, though, giving you useful details immediately and with no hassle at all. If you occasionally work with USB devices on other people's PCs then it's worth keeping a copy around.