Microsoft offering 'Super Saturday' in-store deals -- tomorrow only!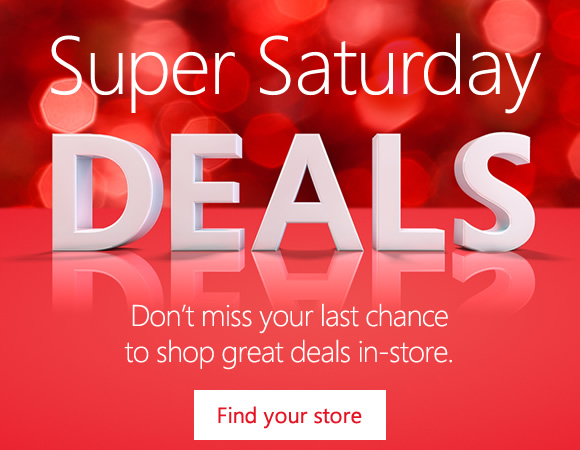 Holy cow, where did the time go!? Tomorrow is December 20th, and Christmas is almost here. If you are like me, you have not finished your shopping yet; yes, it is time to start panicking. Sure, I can run down to Bath and Body Works and buy some lotions for gifts, or go to Target and buy a foot-bath or two, but let's be honest -- those aren't the most thoughtful. In my experience, body lotions, foot-baths, Chia Pets, etc., often get tucked-away into a closet to be regifted at a later date.
Today however, Microsoft is here to help, announcing some special in-store deals for last minute shoppers -- gifts people might actually want. These deals will only be live tomorrow, so be prepared.
Below are the Saturday-only deals.
Buy any Surface Pro 3 and get a $100 gift card and free sleeve
Save up to $300 on select PCs
Save $80 on an Unlocked Lumia 635 -- $99 (reg. $179)
Buy an AT&T No-contract Lumia 520 for $29
Save up to $20 on select Xbox One Games
The Surface Pro 3 is an amazing computer -- great for students, business-users and home users alike. Saving $100 and getting a free sleeve is just icing on an already delicious cake. Of course, that is a rather pricey gift, and you cannot give that to everyone. With that said, discounted Xbox One games and a $29 Windows Phone are sure to make your loved-ones smile. Heck, people will think you spent much more than $29 on a beautiful Lumia smartphone.
Which deal do you think is best? Tell me in the comments.