Santa boards a flight to hand out Windows tablets to all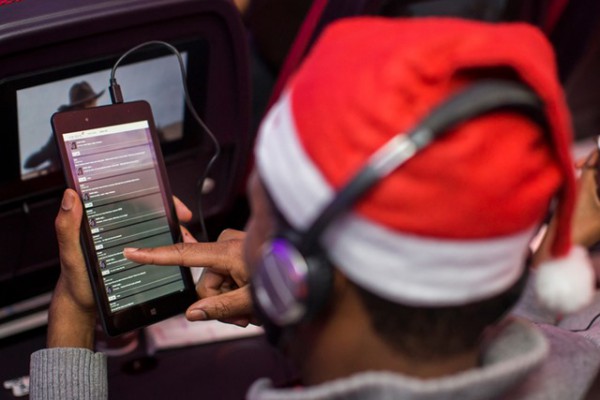 It's that time of the year when our thoughts turn towards a large man in a red suit. Despite his jolly nature, he still manages to sometimes terrify small children, as he did mine. However, the prospect of gifts generally gets them over the hump, and perhaps it's what worked on a recent flight between London and Boston.
The people who boarded the recent Virgin Atlantic flight were treated to a visit from the jolly old man, but more importantly, he had gifts in hand.
"As they boarded the flight, adults and children alike were handed a brand new 8-inch quad-core Windows 8.1 tablet, fully loaded with a number of apps and games, however the most important piece of the pre-installed software was the portal to a 'Festive Flight' section", says Microsoft's Andrew Robertson.
"Having boarded the 787 mid-flight, Santa walked around the cabin, posing for photos with elated children (and a few excitable adults!) and wishing all on board a very Merry Christmas".
The "Festive Flight" app allowed passengers to track the progress of their travel, as well as send messages to Santa, who had "exited" to his sleigh.
This was all put together by Microsoft and Virgin Atlantic. It likely made quite an impression, especially for the children on board the flight. You can check out the video below to experience this adventure for yourself.