Want to watch live sports? You have one less option as Wiziwig shuts down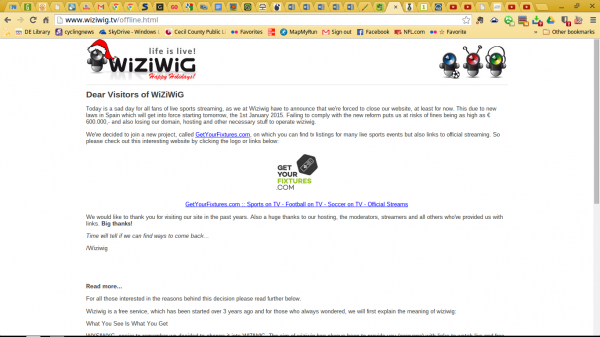 When it comes to cord-cutting, there are few options available to the sports fan. While some sports provide options for online subscriptions, the NFL is not among them, forcing fans to use "alternative" methods for watching their team play on Sunday. As the regular season ends, so does one of the best sources for accomplishing this.
Wiziwig.tv is closing its doors, after providing live streaming sports of all varieties to its users. The website cites a change in law in Spain that would possibly trip it up, resulting in ridiculously heavy fines if found guilty, which seems likely.
The message on the site is simple and to the point -- "Today is a sad day for all fans of live sports streaming, as we at Wiziwig have to announce that we're forced to close our website, at least for now. This due to new laws in Spain which will get into force starting tomorrow, the 1st January 2015. Failing to comply with the new reform puts us at risks of fines being as high as € 600.000, and also losing our domain, hosting and other necessary stuff to operate wiziwig".
The service does offer an alternative method for catching the game when it's on. We won't name it, but it isn't difficult to locate if you wish to try. Otherwise, for at least some sports, you're now out of luck. Perhaps next season the NFL will enter the new century and there will be one more legal option for fans.