Acer's H7550ST Projector brings Google's Chromecast to the enterprise and classroom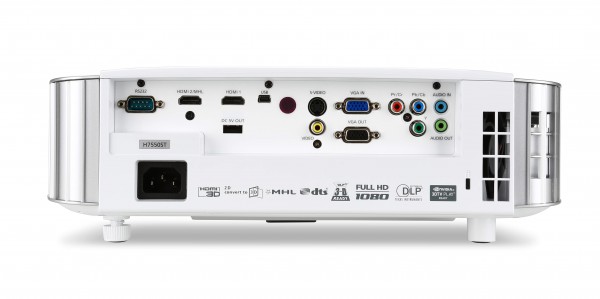 When Google released the $35 Chromecast, it became wildly popular. While it was initially a very limited device, the low price made it attractive anyway. Many early adopters saw the potential of the dongle; if developers embraced it, it could be an insane value. Well, that is exactly what happened, as it now has a plethora of uses in the home.
While home-use is all well and good, why can't the technology also work in the enterprise? If you have ever worked in a corporate setting, connecting a projector to a computer or device is a challenging affair for many. People get confused by the cables, which port to use and ultimately, how to make Windows transmit to the projector. Acer has announced the H7550ST Projector, with the worlds-first internal Chromecast compatibility!
"The new Acer H7550ST projects clear and wide images of up to 100 inches diagonally from as little as 4.9 feet (1.5M) from the screen thanks to short-throw technology, a high 3,000 lumens brightness and a native 16:9 aspect ratio. Due to its ability to project a large picture from a short distance, it's perfect for consumers who will be using the projector from the comfort of home for enjoying movies, games and karaoke, even within smaller rooms. It's also a great option for educators for projecting lessons in the classroom", says Acer.
The manufacturer further explains, "for added convenience, a hidden adapter enables data to be transferred and projected wirelessly from a smartphone, PC or Chromebook leveraging user's own Chromecast, an Acer MWA3 MHL dongle or Acer WirelessHD, which delivers 60Hz Full HD 3D movies without having to change settings when used with a HDMI cable connected to a media player. The unique hidden design of the adapter furthers data security, while maintaining the projector's clean look and feel and reducing the possibility of it being lost".
In other words, Chromecast support is not baked in, and it does not come with the dongle. Instead, there is an internal compartment where a Chromecast can be installed and hidden. This way, the clean look of the projector is maintained and the dongle is hidden from sticky fingers. When used in a classroom setting in particular, a Chromecast jutting off the back of a projector is just begging to be stolen. Could naughty kids still open it up and steal it? Sure, but as they say, "out of sight, out of mind".
In a business setting, this projector, when coupled with a Chromecast, could make sharing PowerPoint Presentations and training videos far easier than ever before. Best of all? No wires by which to get confused!
Of course, besides the education and business worlds, the 1080p projector can be used in a home too. While most homes utilize traditional televisions, I've seen many families utilize a projector in a self-made movie screening room. While many will connect it to an external audio output for such uses, Acer also touts the audio capability, including built in Bluetooth support.
"Two built in 10W speakers provide powerful sound, eliminating the need for external speakers. Deepening the audio impact, built-in DTS Sound increases loudness without escalating distortion, while improving bass performance and vocal clarity. In addition, Acer True Harmony, a customized equalizer, fine-tunes and optimizes the frequency balance to deepen the impact of movies, games and music with enhanced bass and multidimensional sound", says Acer.
The  H7550ST Projector will be available in March for both $999 and €999 -- sorry Europeans, that hardly seems fair!