Magic mirror, on the wall, LaCie's 'Mirror' Portable Hard Drive is sexiest of them all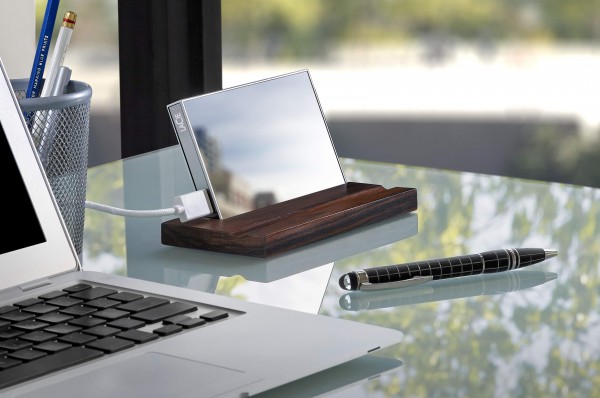 In the story of Snow White, there is an aging, evil queen that is totally jealous of the sexier title character, and thus wants to murder her. So basically, Ms. White runs into the woods, hooks up with some little people, and ultimately falls in love with a sexy prince guy. The end. Why did I tell this story? Oh yes, the magic mirror! Everything I just told you is pointless, other than to say that in the story, the queen had an enchanted mirror.
Speaking of mirrors, LaCie today announces a new portable hard drive by the name of "Mirror". Why? You guessed it; it serves as a mirror. Yes, most of the USB 3.0 hard drive body is Corning Gorilla Glass, which makes it reflective. Crazy, but totally sexy too! How do you not want this on your desk?
"This unique device is at once both a functional 1TB hard drive and a striking piece of decor. The LaCie Mirror hard drive will adorn any desktop as it sits in its base made of a single piece of ebony wood from Makassar. This new signature piece for LaCie has been designed in collaboration with the acclaimed French designer, Pauline Deltour", says LaCie.
The manufacturer further explains, "to make the product more durable, LaCie used Corning Gorilla Glass 3 with Native Damage Resistance (NDR). The glass is chemically strengthened and atomically configured to better survive the real–world events that most commonly cause glass failure. This glass enables improved damage resistance and toughness by helping to prevent the deep chips and scratches that cause glass to break".
In other words, while the glass body makes the beautiful device a part of your decor, it is not simply form over function. The strengthened glass should prove durable for a home backup device. With that said, I would not suggest such a drive for portability; a more rugged design should serve you better.
The LaCie Mirror will be available later this month for a staggering $279.99. A 1TB 2.5 inch HDD should cost under $100, so you are paying quite the premium for the fancy case. Keep in mind though, as I have learned from watching Pawn Stars, paying a lot for art is not such a crazy concept.
The designer, Pauline Deltour explains of her art, "the LaCie Mirror, propped up on its ebony wood display stand, is captivating on a desk or anywhere in the home. The intense ebony color contrasts sublimely with the LaCie Mirror's silver facets".
Silver facets? Oh my. Will you buy this drive? Tell me in the comments.