Seagate announces line of new hard drives, including cloud and wireless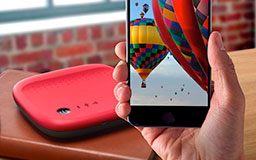 Just when you thought hard drive technology had reached its limits we started getting even more technology and almost ridiculously large capacities. Now Seagate, a well-known name in the industry, is taking things a step further with its pre-CES announcements. It's one of many companies that try to beat the rush of news that takes place during the Las Vegas show.
First up is a new drive that comes with Seagate's Personal Cloud system. The one drive and two bay systems allow the user to store content in the ether. This provides easy access from mobile devices and is handy when you are away from home. This is essentially a NAS device and it does automatic backups of all of the computers on your home network. A dashboard makes it easy to control from both Windows and Mac. No mention of pricing or availability is made.
Next up is a wireless external drive, known quite simply as Seagate Wireless. The technology isn't new, as the company has produced this type of product before, but this one takes the storage level up to 500 GB. It promises to make offloading of media content from your mobile device simple. This is a drive you carry while on the go, providing extra storage for phones and tablets. It's up for pre-order for $129.99 and comes in a variety of colors.
Finally, Seagate announces what it terms as "the worlds slimmest portable hard drive". Named the Seagate Seven, this also packs 500 GB of storage capacity. This one is available for pre-order now for $99.99.
As for checking out the devices you can head over to Seagate. And if you'll be at the Consumer Electronics Show then you can view them in person.