HP announces inexpensive Stream and Pavilion Mini Desktops -- total cuteness!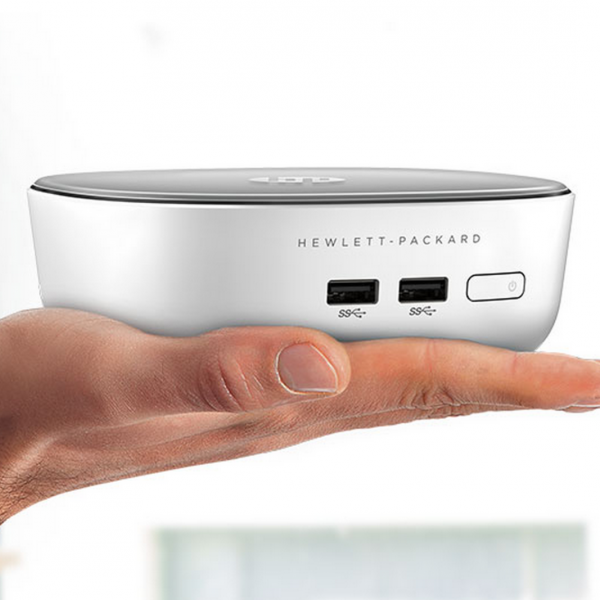 As technology excels, hardware seems to shrink. With the exception of smartphones and televisions, smaller is better. Quite frankly, even though the economy is improving, many people are still hurting. As more and more people share residences, available office space in a home is becoming scarce. Many people no longer have room for a monstrous desktop tower.
HP is a great company, with a rich history and today it is addressing both space and money constraints, with two new tiny desktops -- the Stream and Pavilion Mini Desktops. Unlike limited Chromeboxes, these are full-fledged Windows machines that can do things like run full Microsoft Office and utilize optical drives. Hell, they are low-wattage with a max of 45 watts, so they may even lower your electric bill.
"At only 2.06 inches in height and weighing just 1.6 lbs., the HP Pavilion Mini Desktop can fit in the palm of a hand. It maximizes productivity enabled by Windows 8.1 and supports processors up to Intel Core i3. Customers can store and connect to more videos and photos with up to 1 TB storage and up to 8 GB of expandable memory. Consumers can also immerse themselves in casual gaming and entertainment using the dual display support with DisplayPort and HDMI compatible ports, giving them the ability to stream and access content on multiple screens, including TV with Quad HD support", says HP.
The company further explains, "the HP Stream Mini Desktop comes with value-added services including 32 GB solid-state drive (SSD) for speed and reliability, 200 GB of Microsoft OneDrive Storage for two years, and a $25 gift card for the Windows Store to purchase apps, Xbox games, music and more. The HP Stream Mini Desktop comes in a vibrant Cobalt Blue to match the stunning colors offered in the HP Stream family".
The company lists the starting prices below. It will become available directly from HP on January 14, and see greater availability on February 8.
The HP Pavilion Mini Desktop starting price of $319.99 includes Intel Pentium 3558U processor, 4 GB RAM and a 500 GB Hard Disk Drive (HDD).
The HP Stream Mini Desktop starting price of $179.99 includes Intel Celeron 2957U processor, 2 GB RAM and a 32 GB SSD.
While the blue-colored Stream Mini is a bit under-powered for my liking, it is an absolutely brilliant upgrade for someone clinging on to a very old PC. If you know someone with an old XP machine, this is definitely designed for them. How can you go wrong at this price?
The real gem, in my opinion, is the white Pavilion Mini. Advanced computer users can get a lot of value out of the base model, as it is quite capable. With that said, for those of you looking to get a power boost, I would advise replacing the 500GB HDD with an inexpensive SSD. You can always re-purpose the HDD with a USB 3.0 enclosure for around $20.
Linux users in particular should take a look at both models; a lightweight distro can transform these into wonderful little boxes. In particular, I look forward to seeing how Fedora 21 Xfce runs on the Stream Mini.
Are you as excited about these cutie patootie PCs as me? Tell me in the comments.