LG unveils G Flex2 -- faster, smaller, and still curved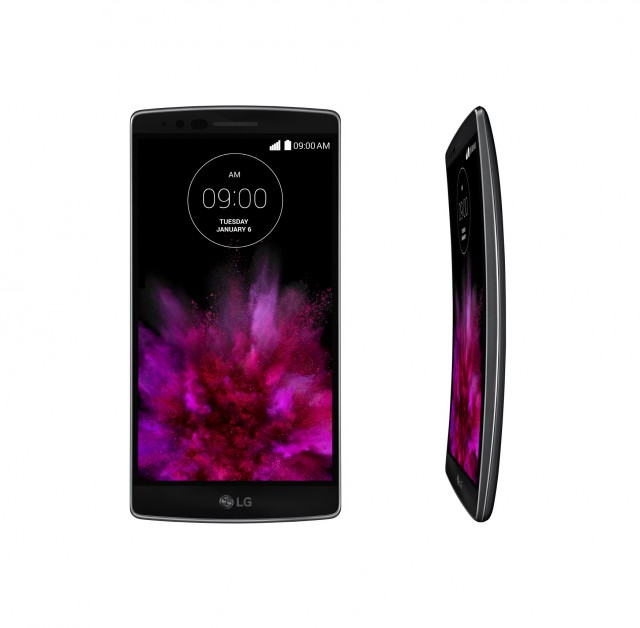 Consumers appear to have little to no interest in smartphones with curved displays. This much is clear, more than one year after Samsung's Galaxy Round first tried -- and failed -- to woo the market. Even the makers which have tried to drive up interest in this exotic form factor are still heavily relying on flat screens for most of their (popular) devices. Curved displays are just as rare of a sight today on smartphones as they were when they first came out.
Still, despite the cold reception, LG is not yet ready to leave smartphones with curved displays behind, as the South Korean maker today announces the successor of G Flex, called G Flex2. The new model, unlike its predecessor, is, however, more likely to have mass-market appeal in the premium segment, in no small part thanks to its less-intimidating size.
Unlike G Flex which came with a 6-inch panel, G Flex2 ships with a 5.5-inch display. It is still of the P-OLED (Plastic-OLED) variety, but it features a higher resolution -- 1,080 by 1,920 -- than before -- 720 by 1,280. This gives it a pixel density of 403 ppi (pixels per inch), which should make everything look great.
"The original G Flex demonstrated LG's pioneering spirit and with the G Flex2 we have refined the curved form factor, staying true to our philosophy of innovation for a better life", says LG's Juno Cho. "The G Flex2 not only has the stunning looks, it also has the powerful guts to be at the cutting edge of current smartphone technology. Simply put, it's a true head-turner in every sense of the word".
So, it is smaller (149.1 x 75.3 x 7.1-9.4 mm, compared to G Flex's 160.5 x 81.6 x 7.9 mm), but is also better at healing itself. The original G Flex could recover from scratches in roughly three minutes, at room temperature, but the new model cuts that time to about 10 seconds, in the same conditions. As such, it is less likely that users will notice every day wear and tear.
And, indeed, it also packs quite a punch. Inside, there is a 64-bit 2.0 GHz octa-core Snapdragon 810 processor with 2 GB of RAM, aided by a 3,000 mAh non-removable battery. For the time being, G Flex2 is the only smartphone to be officially announced with this chip (Galaxy Note 4 LTE-A is likely the other one, but Samsung has yet to reveal this information). Being a 64-bit Android smartphone, G Flex2 naturally runs Android 5.0 Lollipop.
On the back, there is a 13 MP camera with optical image stabilization and so-called laser autofocus. I wasn't too impressed with the same unit on G3, but maybe LG has managed to tweak the software so it produces better results on G Flex2. (One can only hope, because this, in my opinion, could be the only major disadvantage G Flex2 may have over other premium offerings.)
Here's what else you should know about it. G Flex2 will be offered in 16 GB and 32 GB storage trims, but, no matter which one you get, it also comes with a microSD card slot for expansion. Cards up to 2 TB in size are apparently supported, according to the specs announced by LG. Still, suffice to say that a 128 GB card will work just fine. There is also 4G LTE connectivity on board (with support for tri-band carrier aggregation, just like Galaxy Note 4 LTE-A offers), Wi-Fi 802.11ac, Bluetooth 4.1, NFC, GPS, and the usual array of sensors. It weighs 152 grams. Available colors include Flamenco Red and Platinum Silver.
On the user-experience side of things, LG touts features like Gesture Shot (lets users take selfies with a fist pump-like gesture), Gesture View (lets users view the last shot shortly after taking it), Glance View (displays information on the screen while in standby), and Fast Charge (allows the battery to get a half charge within 40 minutes -- it is not a feature exclusive to LG, as Qualcomm created it and it can be found on most premium Android handsets today).
So when can you expect G Flex2? Well, LG says that it is available right now to demo at its booth at CES 2015 -- which is underway, in case you may not know by not -- with market availability to happen sometime later this month, in South Korea first, followed by other major markets.