Samsung's new PCIe SSD is both lightning fast and battery-friendly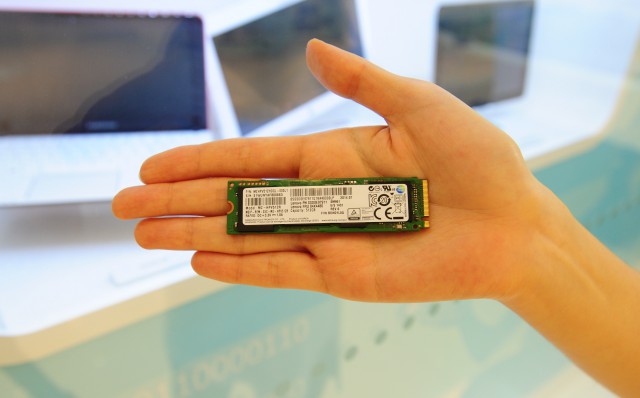 Solid state drives are commonly used nowadays in premium ultrabooks, laptops and desktop PCs, mainly because they are faster and more energy-efficient, and run cooler than traditional hard drives. They are also favored by those who build their own PCs, and as aftermarket upgrades for older devices. SSDs are commonly connected using SATA, but, for the best results, PCIe is the better option.
So, naturally, Samsung has chosen to use PCIe with its latest SSD for ultra-thin laptops and workstations. Dubbed SM951, it promises lighting-fast performance, with speeds over 1000 MB/s, and excellent energy-efficiency, consuming less than 2mW in standby. It will be offered in 128 GB, 256 GB and 512 GB storage options.
"We are helping to accelerate growth of the ultra-slim notebook PC market with the introduction of this energy-efficient, high-speed PCIe SSD", says Samsung Electronics senior vice president of Memory Marketing Jeeho Baek. So, let's take a look at the specs.
When matched with devices that support PCIe 3.0, SM951 is said to deliver sequential read and write speeds of 2,150 MB/s and 1,550 MB/s, respectively. Those results, the company claims, are four times better than what SATA-based SSDs can achieve.
Samsung rates the energy efficiency at 450 MB/s per watt for sequential reading, and 250 MB/s per watt for sequential writing. Compared to its predecessor, XP941 SSD, Samsung says that SM951 fares 50 percent better when it comes to energy efficiency. With regards to performance, SM951 is touted to be four times faster than SATA-based SSDs.
For devices that support PCIe 2.0, SM951 is able to offer sequential read and write speeds of 1,600 MB/s and 1,350 MB/s, respectively. Random read and write speeds are said to be 130,000 IOPS and 85,000 IOPS (inputs/outputs per second), respectively. In these conditions, Samsung claims that SM951 is 30 percent faster than its predecessor, XP941, and three times faster than SATA-connected SSDs.
When it comes to energy-saving features, SM951 supports the L1.2 low power standby mode (Samsung claims it is the first device of its kind to offer this feature), which allows energy use to decrease by 97 percent compared to L1 (down from 50mW). This is likely to be a feature of interest in ultrabooks, where long battery life is paramount to their success.
Speaking of ultrabooks, SM951 looks like a good choice for such ultra-slim devices due to its extremely small footprint. Its form-factor is M.2 (measuring just 80 by 22 mm), which is seven times smaller than the one used by 2.5-inch SSDs (and laptop hard drives). Also, weight is just six grams, which is another reason why it is a good option for ultrabooks.
SM951 has entered mass production. However, Samsung has not said when it will be available in devices, or how much it will cost.