Samsung's new A7 smartphone is big, fast and thin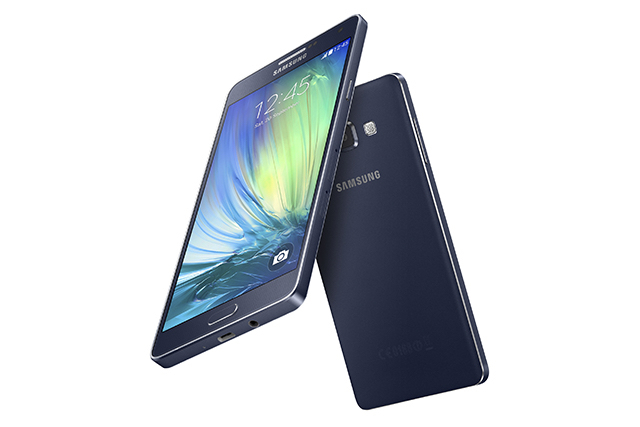 Samsung has long been criticized for making smartphones that look and feel cheap. This has not only been the case with its low-cost offerings, but also with its mid-rangers and flagships -- you don't need to look further than the Galaxy S line -- which is supposed to be Samsung's cream of the crop in regards to design -- to understand the problem.
Fortunately, Samsung has paid attention lately, proof being the introduction of the A lineup as well as the design changes made for the Galaxy Note 4 flagship, which will trickle down to future premium offerings. And, today, Samsung is expanding the A lineup by adding the A7 phablet into the mix. It is the biggest, most powerful and thinnest of the bunch.
A7 is a much-needed addition to the A lineup, as phablets are growing in popularity. By 2018, phablet shipments are expected to reach a third of all smartphone shipments, more than double their current share. Meanwhile, an increasing number of consumers are looking at more affordable devices, which is where A7 comes into play.
It ticks all the right boxes, for an affordable phablet. It packs a 5.5-inch Super AMOLED display (with a resolution of 720 by 1280), is powered by an octa-core processor (more on this below), 2 GB of RAM, 2,600 mAh battery, 13 MP main camera, 5 MP secondary camera, 4G LTE or HSPA+ cellular connectivity, 16 GB of storage, microSD card slot, and NFC. It runs Android 4.4 KitKat, but an upgrade to Lollipop is sure to be in the pipeline.
A7 will be offered in two versions, one with 4G LTE and the other a dual-SIM model with 4G LTE and HSPA+ cellular connectivity. The former gets a Samsung-made Exynos 5430 octa-core processor featuring four cores running at 1.8 GHz and four cores running at 1.3 GHz, as well as NFC. The latter drops the NFC, but gains the extra SIM slot; its Qualcomm Snapdragon 615 octa-core processor has four cores running at 1.5 GHz and four cores running at 1.0 GHz.
Being a phablet, A7 is not exactly small, but it is sized appropriately for a device in its class. It comes in at 151 x 76.2 x 6.3 mm, which makes it smaller than, say, Apple's iPhone 6 Plus (it comes in at 158.1 x 77.8 x 7.1 mm). In fact, A7 is touted to have the "slimmest metal unibody on the market today". A7 weighs 141 grams, which is quite light for a phablet.
Samsung being Samsung, it also gives A7 some of its characteristic software features, like Auto Selfie and Ultra Wide Shot camera modes, Always Clear Voice Auto Control for noise reduction, Private Mode, as well as Multi Screen, among others.
Samsung says that A7 will be available in select markets, in Champagne Gold, Midnight Black and Pearl White. There is no pricing information yet, but expect it to cost slightly more than the mid-ranger of the lineup, A5, when it goes on sale -- a launch date has also yet to be announced.