Samsung introduces first Tizen smartphone, more devices will follow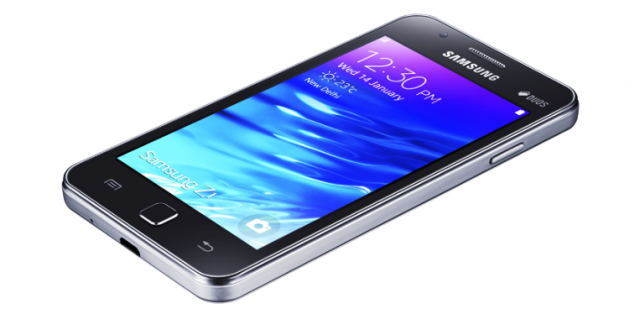 Introducing a new platform comes with great challenges. It cannot successfully compete right away with established players, and it will take years to catch up. Gaining any real traction requires having lots of money to burn through, before turning a profit, let alone breaking even. The vast majority of consumers will be looking to buy the best products around, and emerging platforms do not often make the cut -- even longstanding players can struggle here.
So, it's a tough road ahead for Samsung as it tries to bring Tizen into mainstream. It is already used in some types of products -- like cameras and wearables -- but the real challenges come from popular categories, like smartphones. So far, Samsung only announced a Tizen-powered smartphone, but it didn't hit the market. Today, Samsung is at its second attempt, as it announces what is the first Tizen smartphone to actually hit store shelves. It's called Z1.
Unlike Z, Z1 isn't designed as a mid-range to high-end offering. It is clearly a low-end contender, only featuring a 4-inch display with a resolution of 480 by 800, 1.2 Ghz dual-core processor, 768 MB of RAM, 4 GB of internal storage (albeit helped by a microSD card slot), 3.1 MP rear camera, 0.3 MP front camera, and HSPA+ cellular connectivity.
It is not even really compact, coming in at 120.4 x 63.2 x 9.7 mm, but is light at just 112 grams. It also has a 1,500 mAh battery, which does not sound like a lot but at least Tizen is said to be light on resource use. Battery life is rated at seven hours for video playback and eight hours for calls. There's also an Ultra Power Saving mode, that's available in Tizen 2.3. Oh, and it has dual-SIM support.
Samsung isn't even announcing a global availability, as Z1 is designed for Indian consumers. "The smartphone market in India is rapidly evolving, with many consumers using their device as their screen of choice for content including videos, television programs and video games, as well as a range of apps", says Samsung India's Hyun Chill Hong. "We have customized the Samsung Z1 to meet these unique, entertainment-focused needs of local Indian consumers for a personal and reliable mobile experience".
With Samsung there usually isn't a price or date of availability listed in the official announcement, but this time the company reveals these details from the get-go -- it'll cost INR5,700, which is about $91, and it goes on sale today. A deal with Reliance Communications & Aircel will give users 500 MB of free data over 3G for the first six months after purchase.
Samsung says that Z1 is only one of the many Tizen products to come, as the company is planning to use the platform for Internet of Things devices. In five years, Samsung says all of its devices will be IoT-ready. Of course, it isn't abandoning other platforms, mostly because it cannot afford to yet. Android is still its bread and butter as far as mobile devices go.