Nest talks numbers on money and energy the thermostat can save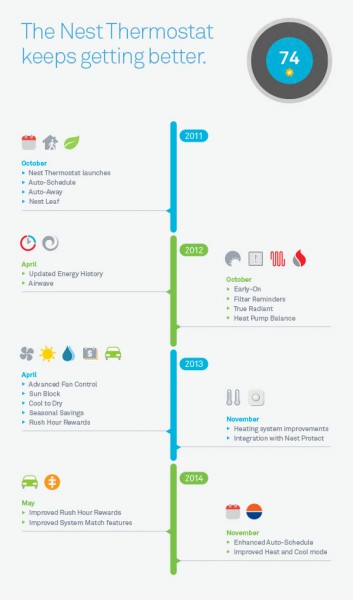 The programmable thermostat concept isn't new, but today's versions are becoming increasingly smarter. Now it's not just programmed, but actually learns from your habits and it can even integrate with other things in your home -- the Internet of Things. There is, perhaps, no better example than Nest, which has become quite popular with the tech crowd.
But what is the real advantage in all of this? Saving energy, and therefore money. Now Nest is reveling the numbers it has been collecting. In an effort to continuously improve its offering, the company keeps tabs on what is going on.
According to a recent report from Nest founder and head of engineering Matt Rogers, the product is averaging 20 percent or more in savings on energy costs. The device maker estimates a savings of $131-$145 per year. It doesn't sound like a lot, but certainly enough so an investment in one is worth your money and the effort to install it.
"Our internal study gathered energy data from homeowners across America before and after they installed their Nest Thermostats. In addition to that, two independently funded, designed and evaluated studies looked at families in Oregon and Indiana. Some saved less on their energy bills, some saved more, and many likely experienced events - like long vacations or new babies - that affected their energy bills more than switching thermostats ever could. But on average, after people installed Nest they saw real savings", Rogers states
If you care for some exciting reading then there's a white paper that Nest has released. That will break down things further, though really all you need to know is that the investment apparently really does pay off in the long run.