Ashampoo reveals Ashampoo ZIP Pro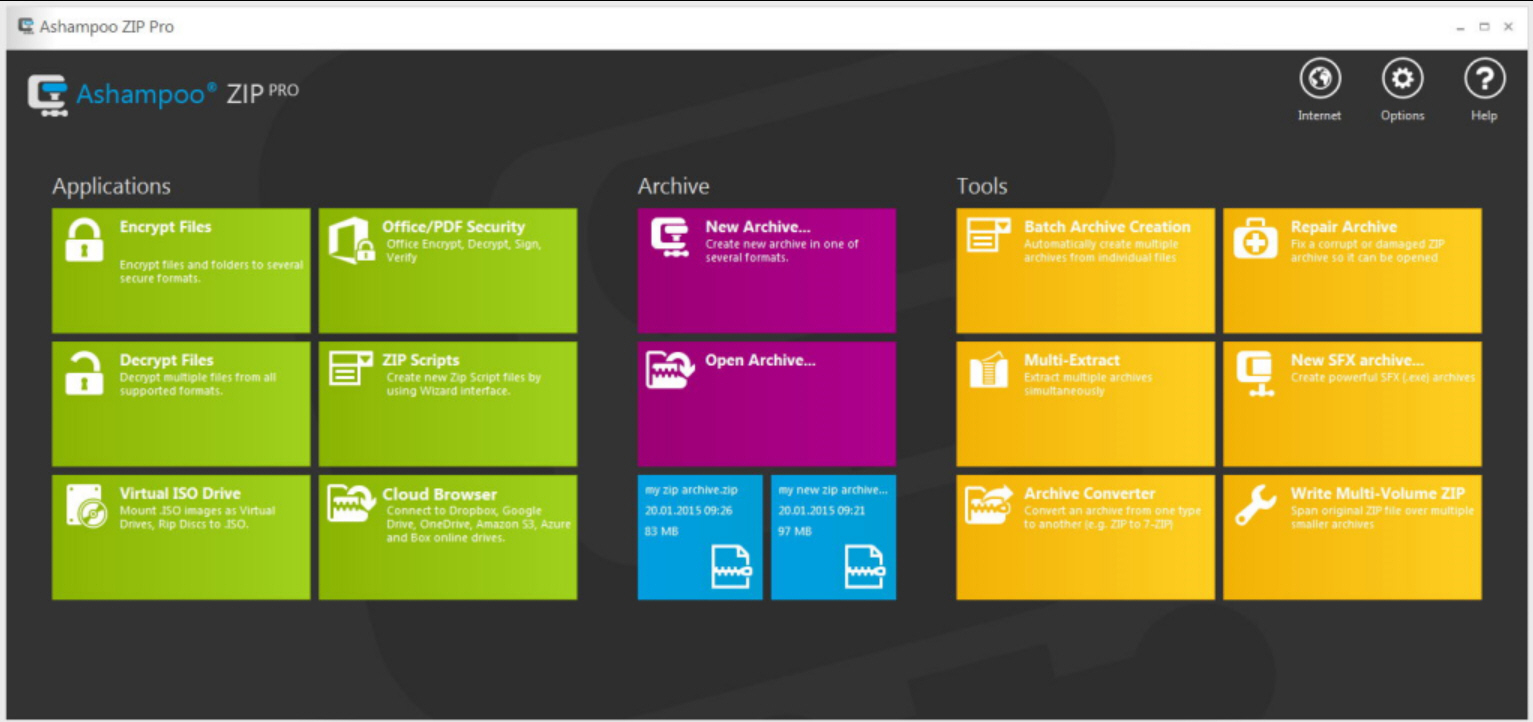 With so many great free archiving tools around for the PC, commercial packages need some seriously powerful features to stand any chance of success. Berlin-based developer Ashampoo has taken the plunge anyway by releasing their $29.99 Ashampoo ZIP Pro -- but does the program have what it takes to win us over?
ZIP Pro's Windows 8-like interface gets it off to a good start, pastel-shaded tiles floating over a white-gray background. And if this isn't quite to your taste, there are a few alternative skins to try out.
File format support is good. There's full support for creating and extracting all the main archive types -- ZIP, 7-ZIP, CAB, TAR (TAR, TAR.GZ, TAR.BZ2, TAR.XZ) and LHA -- and it can open more than 30 formats. A Preview tool allows you to view many file types without extracting them, and ZIP Pro doesn't only have Explorer integration: you can define exactly which right-click options you'd like to use.
The program's Encryption Suite similarly delivers much more than you might expect. It supports both ZIP and ZIPX AES 256-bit encryption; can sign, verify, encrypt and decrypt OpenPGP files; comes with a password manager, and has optional policies to set the minimum strength for your passwords.
There are modules to create self-extracting archives, split massive archives into smaller volumes, repair broken Zip files, or convert archives from one format to another.
Some tools are so capable they might replace entire applications all on their own. Zip Pro can rip CDs, DVDs and BDs to ISOs, then mount them as virtual drives on demand; a Cloud Browser integrates with your Dropbox, Google Drive, One Drive, Amazon S3, Azure and Box accounts without having to install their regular software; and "ZIP Scripts" help control all this to use the program as an automated backup tool, archiving the files or your choice, burning them to disc, or copying them to network, FTP or cloud destinations.
We're not yet sure how robust any of this really is. The most in-depth test we tried is seeing if the "Repair" module could recognize and fix a zip file if we simply zeroed the first two bytes (the "PK" signature): it couldn't.
The program does have a free build, but it's annoying; the vast amount of its functionality is stripped out, and every time you carry out some tasks (create a self-extracting archive) it opens a browser window at the Ashampoo site. If you need a zip repair program then it might be worth a try, but otherwise we'd leave it alone.
Ashampoo ZIP Pro is much more impressive as a commercial tool, though, particularly with its encryption, cloud storage and automation features. If you'll use all that functionality, a 40-day trial build gives plenty of time to see if it's right for you.