Lepow Poki 5000 and U-Stone 12000 external battery chargers [Review]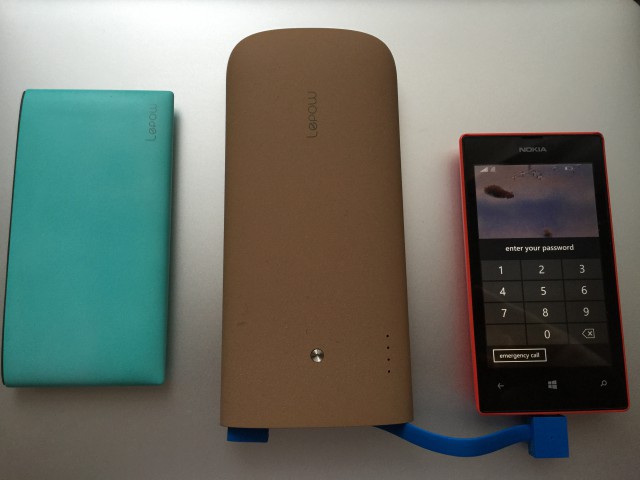 Working from home has its perks. I don't waste any time commuting. I get to eat home-made food at lunch. And, among other things, I never have to worry about battery life. If the battery of my smartphone is nearly done, I can always find a charger to top it up again. Life is easy in this regard, until I walk out the door.
I don't usually plan my trips so that I go out with a fully-charged smartphone. This is the least of my concerns, to be honest. There's always a charger in the car. And, for the times when that is not an option, I carry either a Lepow Poki 5000 or U-Stone 12000 external battery charger. I'll be reviewing both in this piece.
Before we go any further, I should mention that I received both external battery chargers for review, in early January. I have used them, when needed, since. I will be discussing both to give you a better idea of which size fits you best. Right, now let's move on and kick off the review with the smaller, and more battery looking, of the two, Poki 5000.
As its name suggests, Poki 5000 has a 5,000 mAh battery inside. Using a 2.1 A phone charger, it is said to take between three and four hours to top up its battery completely. Based on my testing, it seems fairly accurate; that said, I haven't used a timer for more scientific testing (nor have I for U-Stone 12000 for that matter).
Given that it takes longer to charge than a typical smartphone (be it low-end or high-end), my advice is to leave it plugged in at night -- or another time of day when it's convenient for you. The remaining battery capacity is indicated on a strip on the side, as shown below, which lights up when you swipe across. Nice touch.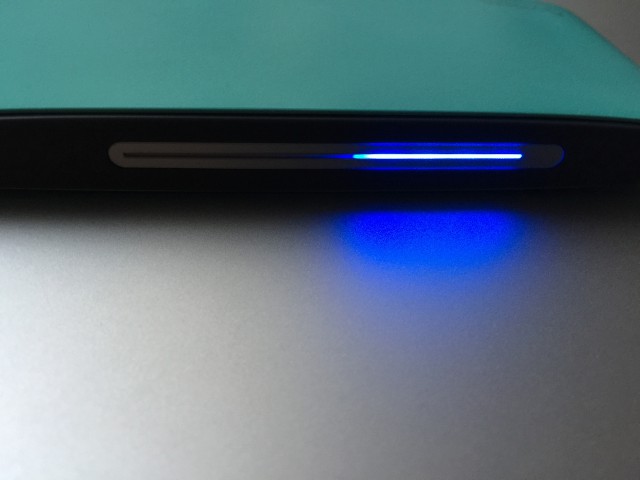 Poki 5000 is quite pocketable, and comes with a nice pouch to store it and the USB cable it comes with. It measures 5.04 x 2.54 x 0.52 inches and weighs five ounces, which means it can be carried inside a purse or a (larger) jacket pocket with ease. It's available in black, green, white and yellow; the model that I have received is, as seen in these photos, the green one. Poki 5000 feels decent to the touch. It costs $24.99, at the time of writing this article, on Amazon.
U-Stone 12000 is bigger in every single way. It's got a 12,000 mAh battery inside, which is said to require seven hours to fully charge (again, with a 2.1 A battery charger). It measures 6.7 x 3.1 x 1 inches and weighs 12.8 ounces. U-Stone 12000 also has an USB cable, which is designed to be carried with it plugged in at both ends. It doesn't come with a pouch, but is shipped in an "oval dinosaur egg" like package, which doesn't look like it may hold an external battery charger inside. I like the grip on U-Stone 12000, which is covered by a textured plastic. It is available in Stone Gray or Khaki Brown. I'm reviewing the latter trim.
Just like with Poki 5000, given that it takes an even longer time to charge, I recommending charging it over night as to have it ready as you head out the door in the morning. Seeing that it's got a really, really big battery inside, you can get away with charging it every two days (possibly rarer). As shown below, the remaining battery capacity is indicated by just four lights; it's definitely not as precise as with Poki 5000. It costs $34.99, at the time of writing this article, on Amazon (only the Stone Gray model is available new now).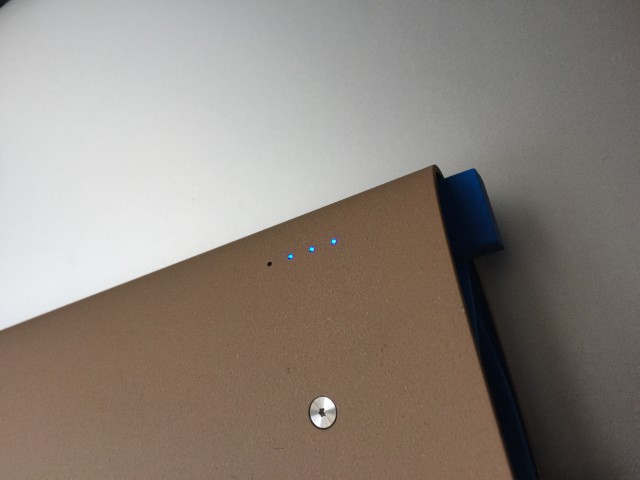 Let's move on to how you can leverage Poki 5000 or U-Stone 12000. Lepow may prefer to advertise the battery capacity in mAh like just about every other company (Apple, for instance, is an exception), but it doesn't give you an accurate representation. I won't bore you with the details, but the main idea is that in order to compare your smartphone's battery to that of an external battery both have to have the same voltage, which is never the case in real life.
So, for the sake of accuracy, I'll refer to its capacity in Wh instead. With that said, what Poki 5000 can offer is 25 Wh. Similarly, U-Stone 12000 can give you 60 Wh. Now, let me give you some figures for some well-known smartphones. (I'm using flagships because they have the biggest batteries around, and, therefore, would strain the two the most.) Here goes:
Apple iPhone 6 -- 6.91 Wh battery
Apple iPhone 6 Plus -- 11.1 Wh battery
HTC One (M8) -- 9.88 Wh battery
LG G3 -- 11.4 Wh battery
Motorola Moto X 2014 -- 8.74 Wh battery
Nokia Lumia 1520 -- 12.9 Wh battery
Nokia Lumia 930 -- 9.19 Wh battery
Samsung Galaxy Note 4 -- 12.39 Wh battery
Samsung Galaxy S5 -- 10.78 Wh battery
Now, here are a few tablets for good measure:
Apple iPad Air -- 32.9 Wh battery
Apple iPad Air 2 -- 27.62 Wh battery
Google Nexus 7 2013 -- 16 Wh battery
Google Nexus 9 -- 25.46 Wh battery
Using the figures above, you can mix and match as you please. As an example, you could fully charge a 2014 Moto X and second-generation Nexus 7 from zero percent, but only once, with Poki 5000. Or, you could charge a Galaxy Note 4 twice, fully, also from zero percent using the same external battery charger.
Meanwhile, a U-Stone 12000 can charge an iPad Air 2 twice, from zero percent, and there would still be some room left to charge a Lumia 930 or Moto X to more than 50 percent. Or, you could charge an iPhone 6 Plus five times or a Lumia 1520 four times, again with some charge to spare. Keep the Wh battery capacities of your mobile devices in mind as you choose which external battery charger to buy.
(There is also a 10,000 mAh version of Poki, called Poki 10000, in case you like the design but want something bigger. U-Stone 12000 is only available in this capacity.)
Since there is little that one can say about how external battery chargers work in real life, I will tell you that both Poki 5000 and U-Stone 12000 have performed as expected during testing. There was only one hiccup, when U-Stone 12000 or my iPhone 6 Plus refused to work, using an Apple Lightning cable. It could have been my phone that refused to charge. I couldn't replicate this issue again, however. With other devices, there have been no problems whatsoever. I should note that no Lightning or 30-pin Apple cable is provided. Same goes for a charger; you can use one you already have.