2015 Motorola Moto E offers Android 5.0 Lollipop and 4G at just $99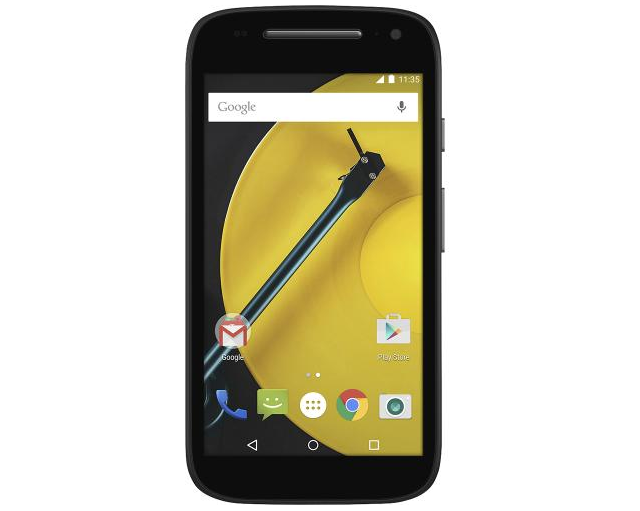 Consumers looking to purchase their first smartphone have so many options to choose from that the only way manufacturers can differentiate is by giving their devices more upscale, standout features. In a time when 4G LTE is on the rise, faster data speeds would certainly qualify. And with the 2015 Moto E, Motorola is finally giving its future customers just that.
Yes, folks, the 2015 Moto E will arrive packing 4G LTE cellular connectivity, at a price that is similar to its predecessor's. And it will run Android 5.0 Lollipop out-of-the-box.
The current Moto E is Motorola's least-expensive smartphone, being available for around $100 off-contract. According to a Best Buy listing of the 2015 Moto E, the new smartphone, in Sprint trim, will be available for as little as $99.99, obviously sans contract.
Motorola has also fixed another issue with last year's model, as the 2015 Moto E arrives with double the internal storage -- 8 GB, compared to just 4 GB for the 2014 Moto E. It retains the microSD card slot.
And it will also pack a faster processor, namely a 1.2 GHz quad-core Qualcomm Snapdragon. The other major specs remain unchanged: 4.5-inch display with a resolution of 540 by 960; 1 GB of RAM; 5 MP main camera; 0.3 MP front-facing camera; GPS; Wi-Fi 802.11n.
The 2015 Moto E comes in at 5.12 x 2.64 x 0.47 inches and 5.04 ounces. The Sprint version, pictured at the top, is the black model; other color options will most likely be offered.
At just $99.99, the new Moto E (while writing this article, Best Buy took down the page, so I'm linking to Google Cache instead) will face tough competition from last year's Moto G, which can be had for even less money and with better hardware. A pre-paid Verizon model can be had now for just $69.99. However, you'll have to shell out more for the 4G LTE Moto G to also get a microSD card slot; assuming you're fine with a carrier-branded model, it also costs $99.99.