HERE for Android gets slew of improvements as it graduates from beta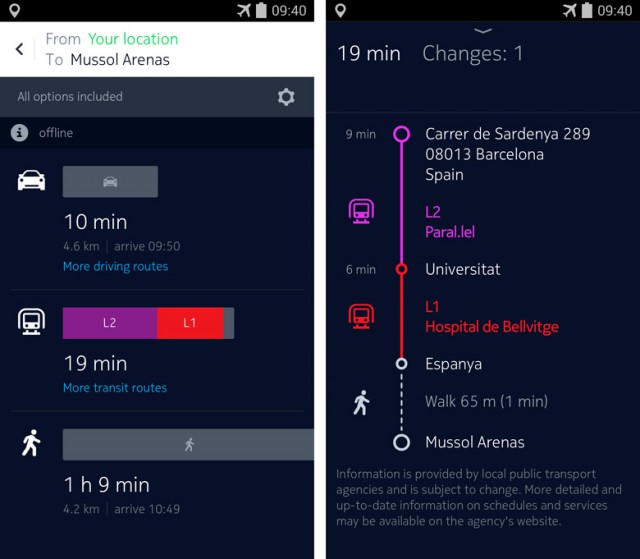 In less than a week, HERE has seen two major updates. The first brought more accurate maps to Android and Windows Phone users, making way for turn-by-turn navigation in more countries. And the second brings a slew of improvements to HERE for Android as the app finally drops the beta label.
Having used HERE on Android right from the start, I have to say that there is little that I miss compared to what the app suite has to offer on Windows Phone. Still, this hasn't stopped Nokia from making some tweaks here and there. Here's what the latest update brings to the table.
Those of you who use HERE for Android to get walking routes or in conjunction with public transit will notice that the app now shows you the fastest routes for all transportation modes, not just driving as it was the case before. Alternative routes can be seen by swiping left or right.
One of the main benefits to using HERE is the ability to take advantage of offline maps. Previously, you were forced to download them in the foreground, but the latest update now makes it possible to get the maps to your Android device in the background.
HERE for Android now also gives you more information on points of interest, with things like contact info, photos and reviews now being shown. This improvement extends to traffic information, which, for instance, shows you the length of the road segment that's closed and the streets that are impacted by the closure.
As part of what Nokia calls Venue Maps, HERE for Android can now show you a 3D view and maps of airports, malls and other locations. In case of multi-story buildings, you can see what's on the different floors.
There are also refinements to the user interface, which is said to bring more visual polish and make it easier to keep just the information that you want in the foreground. Another change brings collections to the menu. And, last but not least, HERE for Android gains "many, many bug fixes" and tweaks, the latter of which include 25 percent louder volume for spoken directions.
There is also an infographic on HERE for Android, which you can view below.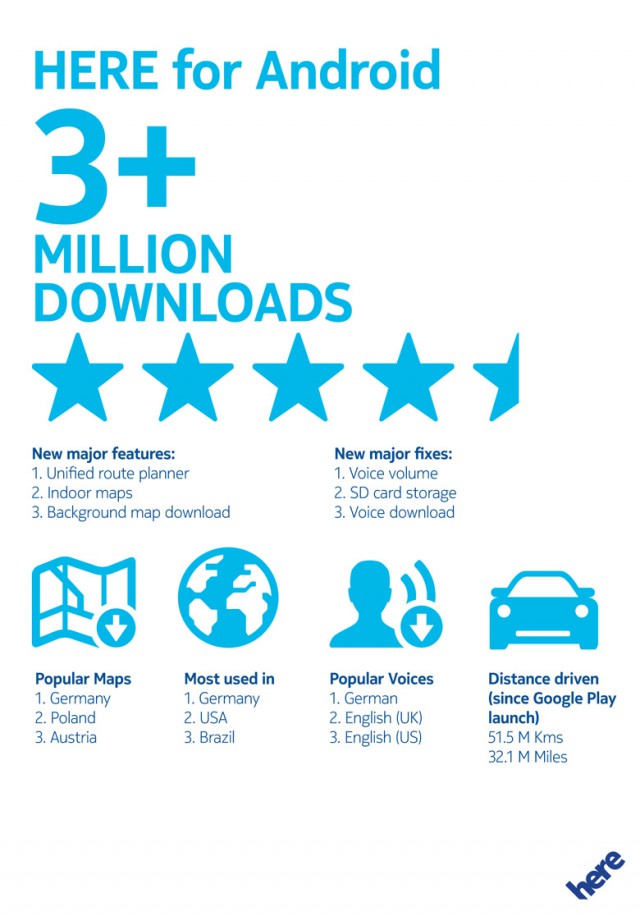 HERE is available to download from Google Play.