Parallels Desktop 10.1.4 improves Windows 10 support, simplifies installation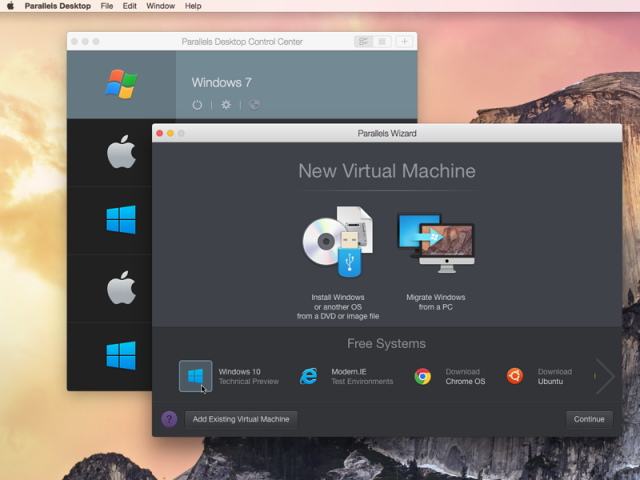 Shh, don't Apple, but Mac users can now test the next version of Windows quickly and easily with the release of Parallels Desktop 10.1.4 for Mac.
That's because the latest update promises "experimental" support for the latest version of the Windows 10 Technical Preview, along with support for Office Preview for Windows 10 too.
Not only does Parallels provide support for the next versions of Windows and Office respectively, it also makes it easy for users to download and install the preview version of Windows -- when users come to add a new machine, Windows 10 is now prominently displayed as an option for downloading.
Users are also guided through the download and installation process, which includes a choice of 12 languages, giving them a quick and easy way to set up and play with the pre-release version of Windows 10 on their Mac.
The update also promises to address "overall stability issues" although only one specific fix is mentioned: one that means Parallels Tools will no longer continually reinstall itself when users attempt to add it to guests running Windows 10 Technical Preview.
Parallels Desktop 10.1.4 is available now as a trial download for Macs running OS X Lion or later. A Core 2 Duo processor or later is required, with 4GB RAM recommended.
The full version can be purchased for $79.99, with a Student edition ($39.99) and upgrade from Parallels 8 or 9 ($49.99) also available. A three-month complementary subscription to Parallels Access comes with the purchase.