Google brings Android One to the Philippines, two smartphones coming soon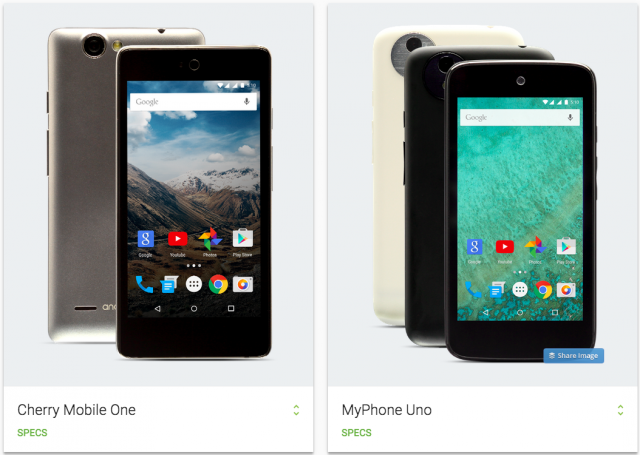 Google today announces the arrival of Android One in the Philippines, bringing the number of countries where the program is offered to six. The first Android One smartphones to launch in the Philippines are called Cherry One and MyPhone Uno, and they'll both come with Android 5.1 Lollipop out-of-the-box.
Google says that both smartphones will be available to local consumers in the coming weeks, featuring hardware specifications that are on par with those of other Android One devices. Let's take a look at what One and Uno have to offer.
On paper, there is nothing to separate the two smartphones. They both pack a 4.5-inch FWVGA display, 1.3 GHz quad-core Cortex A7 processor, 1 GB of RAM, 1,700 mAh battery, 5 MP main camera, 2 MP front-facing camera, 8 GB of internal storage, support for microSD cards up to 32 GB in size, and two micro-SIM card slots.
Where they differ is in terms of design. To my eyes, One is the better looking of the two, as it features more squared corners and sleeker back design. On the other hand, Uno will appeal to those who like curves to their smartphone.
Judging by the photos posted by Google on the Android One site for the Philippines, Uno will be available in two color trims, the typical black and a yellowish white. One is only shown in silver. (The color options are only for the back plate, as the front's black in both cases.)
Given that Google has announced offline support for YouTube in a number of Asian markets, including the Philippines, this data-saving feature will be made available on both Android One devices. Google adds that "our connectivity partners will be offering promotional plans to people who buy Android One's that will help reduce costs for over-the-air (OTA) updates and app downloads from Google Play".
There are no details surrounding availability, however Android One smartphones typically cost around $100, without a mobile operator contract, and it's very likely both One and Uno will go on sale with similar price-tags.