Sony announces SmartEyeglass Developer Edition SED-E1, goes up for pre-order today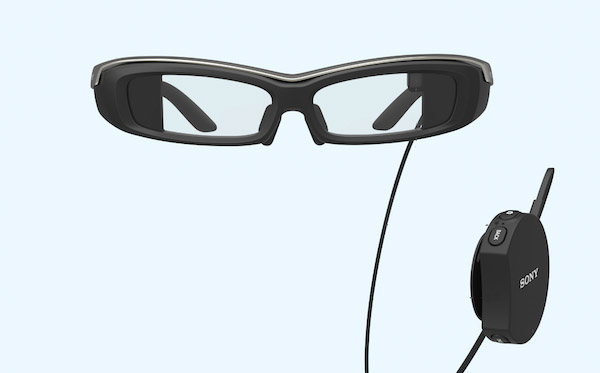 Smartglasses are tricky. You have people who don't like to wear glasses. Those who do may not like their design. They can also be tiring to wear for extended periods of time, as Google Glass Explorers have confessed. Not to mention that smartglasses are also very expensive. And, at least for the time being, consumers are not taking the plunge, as they appear to be perfectly happy with using just their smartphones.
The lack of consumer interest, and Google recently killing its beloved Glass project, hasn't stopped Japanese maker Sony from coming out with its own pair of smartglasses. They're called SmartEyeglass Developer Edition SED-E1, and they're available for pre-order starting today.
The final name -- of the version that consumers are likely to get (assuming Sony doesn't kill the project as well) -- looks to be SmartEyeglass, which sounds fine for a pair of high-tech glasses. But today's model is aimed at developers, hence the longer moniker. If it's not clear enough, the design certainly brings this point home.
SmartEyeglass Developer Edition SED-E1 has a design that only a cyborg could love -- although I seriously doubt they would be seen in public wearing them. (Take a look at the video embedded at the end of the story to see what I mean.) Given their target market, that's understandable. Sony clearly has some work to be done before it can sell them to consumers.
So what are developers supposed to do with SmartEyeglass Developer Edition SED-E1? Sony says that it is looking to create an ecosystem around its smartglasses and, as such, the device is designed as a testing platform for apps (in conjunction with the software development kit, which is made available for buyers).
The smartglasses won't be running any apps on their own, as Sony designed the device so that it needs an Android smartphone from which to pull all the data from. So interested developers will have to design Android apps for SmartEyeglass Developer Edition SED-E1. Communication is done via Bluetooth and Wi-Fi.
Right now, Sony says that there already are a few apps available, to let you do basic things like checking Facebook, Twitter, Gmail, RSS feeds, calendar and so on. So at least some of the basics are covered from the get-go.
The highlights of SmartEyeglass Developer Edition SED-E1 are its transparent binocular lens, which allows for augmented reality content. The lenses are designed to impede visibility as little as possible; I should point out that there isn't an option for corrective lenses.
SmartEyeglass Developer Edition SED-E1 also packs a small binocular display and 3 MP camera, as well as various sensors. The smartglasses can be controlled using a wired controller with a touch sensor, which also packs a battery, microphone, NFC, and speaker.
For more details on the smartglasses you can hit the link in the third paragraph, which takes you through all the features in more detail. But, before you do that, here is some other information you should know.
SmartEyeglass Developer Edition SED-E1 will be available to purchase starting in March, in US, UK, Germany, Japan, Belgium, France, Italy, Netherlands, Spain and Sweden. It goes up for pre-order only in the first four markets; at the time of writing this article, however, it's only available for pre-order now in UK and Germany, for £520 and €670, respectively.