TwitchCon 2015 is coming to San Francisco, bros! Are you going?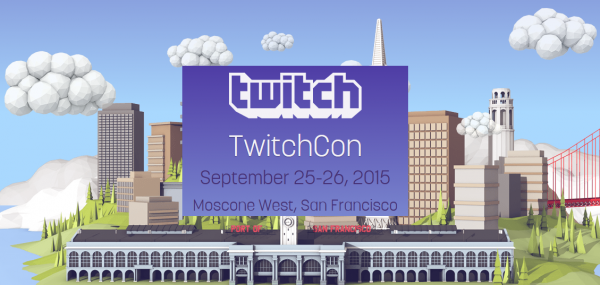 When I was a young man, around the age of 8 or 9, a friend of mine got a NES and Super Mario Brothers. I went to his house almost every day to watch him play. Yes, he would give me turns, but you know how that goes -- you play for maybe 5 minutes while your friend plays for 3 hours. After a while, this became unbearable -- watching someone else play was torturous. I begged my dad for my own, so I could play as much as I wanted. My pops came through for me after a while, coming home with a NES, Super Mario Brothers and The Legend of Zelda. I had to play it on a black and white TV, but I didn't care; no more watching people play.
Fast forward to 2015 and I don't have the time to play video games; it is tragic. With that said, I do find time to watch others play. I know this sounds crazy, as I used to hate never getting a turn to play, and having to watch watch my friend, but now I watch Pewdiepie on YouTube, and many others on Twitch, playing video games. Why is this enjoyable? I have no idea. I'm not alone, however, as Twitch is massively popular. In fact, it is so popular that the first-ever TwitchCon has been announced. Will you be going?
"Created as a celebration of all things Twitch, the convention will attract members of the Twitch community from all over the globe. Attendees will have the chance to mingle with each other and their favorite broadcasters, experience live content from the convention center, and learn from the community's thought-leaders", says Twitch.
Emmett Shear, CEO, Twitch explains, "Twitch broadcasters have the most passionate fans, so we want to create an amazing experience where they can come together in person. TwitchCon will be an opportunity for the entire community - broadcasters, game developers, viewers, and us - to play and learn together".
Twitch shares the deets:
What: TwitchCon
When: September 25-26, 2015
Where: Moscone West, San Francisco, CA
Unfortunately, what will specifically happen at TwitchCon 2015 is sort of unknown. While the players that stream themselves seem rather social, I am guessing the viewers don't get out much. In other words, I may be stereotyping, but if you spend hours watching someone else play video games, you probably aren't "Mr. Popularity".
Will Twitch viewers want to mingle and socialize? If so, I picture it looking like Napoleon Dynamite's prom.
To learn more, head here. You can enter your email address to sign up for updates.