WhatsApp Call feature releases to more users -- here's how you can get it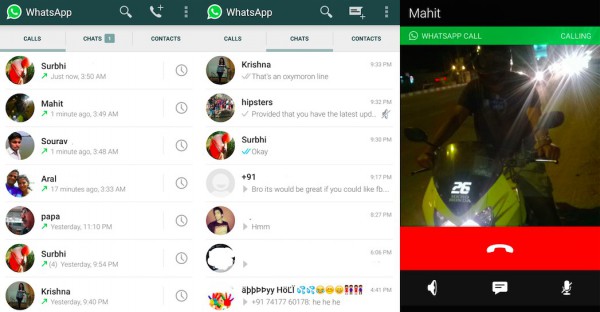 WhatsApp, the popular instant messaging client, is working on a voice-calling feature which it plans to release to the public soon. WhatsApp has been rolling out the functionality to select users as part of a beta test program, something the company had confirmed last month. BetaNews is now able to report and confirm that WhatsApp is once again rolling out the voice calling feature to many users, and the invite can be disseminated if a user with the feature working on their Android device makes a phone call from within the app to other Android users. We tried to make it work on an iPhone, but couldn't; and we're yet to try it on a Windows Phone handset.
Last year, WhatsApp announced that it was working on a voice-calling feature and would release it to users by the second half of 2014. While that obviously never happened, the company last month began to flip the switches for many users as part of a beta testing program. Last month, it had confirmed that it was beta testing the feature and would release to all as soon as it is satisfied with the initial results.
We have talked in length about why this feature matters to users. According to the latest estimations, more texts are being sent through WhatsApp than via traditional SMS. Statistically too, in emerging markets such as India, a voice calling feature over the web could significantly reduce users' phone bills.
For a quick analogy, I compared a regular phone call's tariff with a voice call over the web last month. "Skype, for example, uses 6 to 20 kbps or around 150KB per minute for a voice call. The amount a user would have to pay for this much data is a lot less than a voice call tariff. In India, for instance, that much data usage with standard internet data plans of say $2-4 per GB will provide users with over 6,820 minutes, something which would otherwise cost a user Rs 6,820 (more than $100) over a typical voice call.", I had inferred.
Users are required to have either v2.11.528, or v2.11.531, or v2.22.555 (which you can download from our reliable friends at APKMirror) of WhatsApp installed on their Android smartphone or tablet. After which, they are eligible to snag the feature provided someone with the feature working on their handset makes a phone call to them. We've personally invited a number of users and can vouch for this invitation system's validity. That said, we are not sure how long WhatsApp will keep the invitation system open.