Lenovo B50-30 23.8 inch All-in-one -- beautiful, powerful and affordable [Review]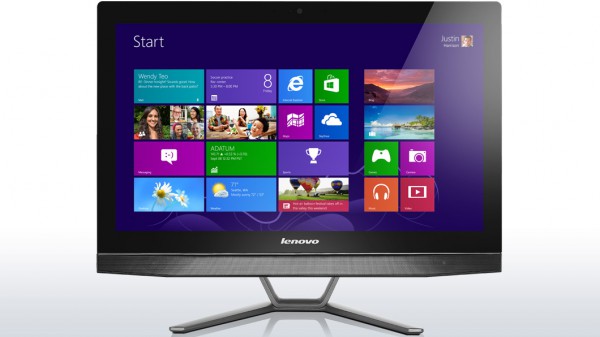 As a system builder, and lover of desktop add-on cards, I am usually adverse to all-in-one computers. Why? I prefer having my computer and monitor separate -- if one breaks, the other can still function. With that said, I recognize the value and space-savings potential of these machines.
For me to be interested in an all-in-one unit, it has to be exceptional. In other words, it has to be well-specced, as many upgrades will not be possible. Today, I am reviewing the Lenovo B50-30 23.8 inch All-in-one computer, and boy oh boy, are the specifications nice! It has an Intel Core i7 processor, 12GB of RAM and a discrete 2GB Nvidia gaming card. Is it enough to make me an all-in-one proponent?
Specs (as reviewed)

Processor: 4th Gen Intel Core i7-4785T (2.20GHz 1600MHz 8MB)
Operating System: Windows 8.1 64bit
Graphics: NVIDIA GeForce GT 840A 2GB and Intel HD Graphics 4600
Display: 23.8 inch FHD (1920x1080) 10-point multitouch display with IPS technology
Integrated Communications: Wi-Fi 802.11 a/c, Bluetooth 4.0
Dimensions (H x D x W): 22.9 x 8.1 x 178.5 (inches)
Memory: 12GB PC3-12800 DDR3L 1600 MHz
Sound: JBL stereo speakers with Dolby Home Theater
Weight: 19.8 lbs
Connectors: 3 x USB 2.0, 2 x USB 3.0, HDMI-out, HDMI-in, mic, headphone, gigabit LAN
Hard Disk Drive: 1TB 7200 RPM + 8GB SSHD (hybrid)
Impressions: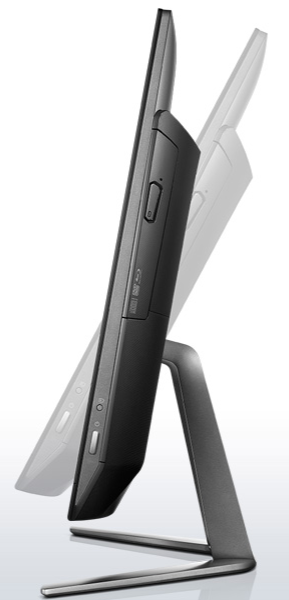 Taking the computer out of the box, I was presented with two pieces; the actual computer and the stand to hold it up. Luckily, connecting the stand was surprisingly simple and definitely doable as a on-man job. Lenovo wisely put notches in such a way that it cannot be attached in the wrong way. Also great? The manufacturer utilizes toolless-screws, so if you stupidly realize midway that you don't have tools (like I did), you will be fine. Just screw it in tightly and you are off to the races.
Also in the box are wireless peripherals; a mouse and keyboard. Both are passable, and absolutely fine for the average home user, but certainly not high-quality. The mouse comes with a connection dongle, which is stored in the battery compartment. It is powered by a single AA battery, so it is suggested to keep some on hand for when it runs out.
Sadly, ergonomics and features are secondary here; it is designed to be ambidextrous, meaning it doesn't fit comfortably in either a right or left hand. The big disappointment, however, is the lack of thumb buttons. I don't know about you, but my brain is wired for having those buttons for navigating back and forward in my browser.
The keyboard is actually nice, featuring chiclet-styled keys that are all the rage nowadays. Like Lenovo's laptops, the keys are founded on the bottom, which people seem to love or hate; I am the former. The keyboard is thin, yet not flimsy. It is a winner.
With peripherals connected, I booted the machine up and was very happy with the speed. This uses a Seagate hybrid SSHD storage drive, meaning it is a HDD and SSD together. This is a great way to get some of the SSD speed benefits at a fraction of the cost. Enthusiasts may prefer a traditional SSD, but for the average home or business user, I agree with the hybrid solution.
Overall performance of opening files, starting programs and uncompressing files was fast and fluid. This should be of no surprise however, as the Core i7 and 12GB of RAM are an impressive combo.
One of the big selling points of the Lenovo B50-30 is the discrete Nvidia graphics with dedicated 2GB of memory. What does this mean? The 12GB of system storage is not decreased for use with the graphics card; Windows reports a full 12GB of RAM available.
Such a card will make gaming on the machine very possible, including modern games, albeit not always on the highest settings. Having 2GB of video RAM in such a machine is very impressive.
The 1080p screen is big and beautiful too, making playing games or watching media a dream. Not all is roses with the display, however, as there is a blue tint on the right and left edges when viewing white or light-gray backgrounds. Is it annoying? A bit, but hardly a deal-breaker. When gaming, or watching a movie, it is is not an issue. You will probably only notice it when on bare webpages like Google.com or when editing a document in Word.
Blue-tint aside, the display is very glossy, which I like, but it does show reflections very easily. On a positive, however, fingerprint smudges aren't overly apparent after utilizing the touchscreen. Speaking of which, despite reports that a touchscreen on a desktop is stupid, I must disagree. True, I use the mouse the vast majority of the time, but having the ability to reach out and touch sometimes definitely has value. The Lenovo B50-30 has a great range of movement too, making positioning for touch a solid experience.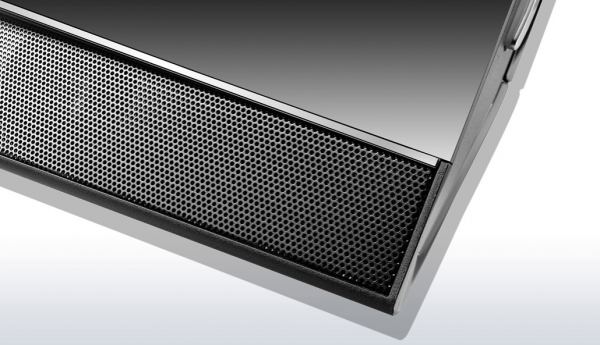 One place where the all-in-one really shines is audio. Equipped with JBL speakers featuring Dolby Digital Plus Home Theater, both movies and music are a wonderful experience. Bass is a bit lacking, but then again, there is no subwoofer; the row of speakers on the bottom of the display are impressive for what they are. As a desktop system-builder, it is nice not to have another set of speakers plugged into the wall and taking up room.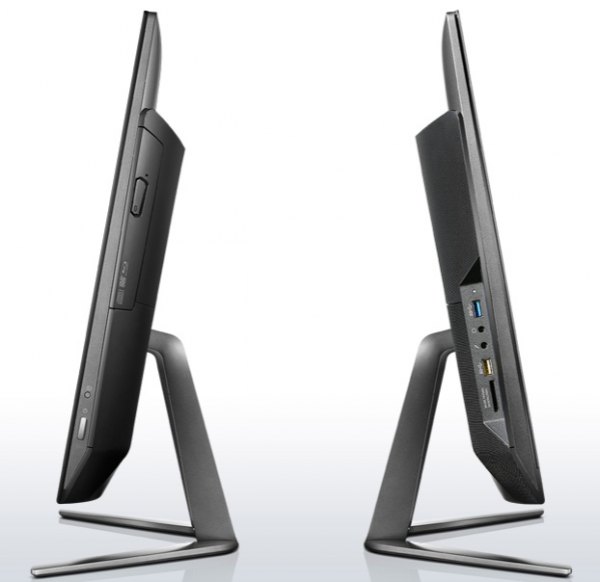 Connectivity is a huge plus here, specifically with HDMI. Not only does it have HDMI out for connecting a second display, but HDMI in for using the all-in-one as a display itself.
The HDMI output is great for productivity, as you can set up a second-screen experience if needed. In the business world, this is a huge boost to productivity. For a home user, there are many uses, such as setting up a dedicated Spotify or Twitter monitor.
The HDMI input is what I use mostly, as I can connect my Raspberry Pi 2 to the Lenovo B50-30, which can also power it by USB. By hitting a button, I can switch between Windows or my Pi 2. The uses here are endless. It can even serve as a TV when coupled with a cable box. I can see a college student using this as both a TV and computer to save space in a dorm.
Other connectivity options are 3 USB 2.0 ports and 2 USB 3.0 ports, an SD card slot (SD, SDHC, SDXC, MMC, MS and MS PRO) and a gigabit Ethernet port.
While 5 USB ports are plenty, I am a bit dismayed by the location of the 3.0 ports. Rather than be on the rear with the 2.0 ports, they are instead on the edge of the left side of the monitor. I understand Lenovo's thinking here, as it can be more convenient for connecting USB 3.0 flash drives. Unfortunately, in my case, I wanted to connect a USB 3.0 hard drive, which will almost always be connected. This means the connected wire is visible and not hidden on the back. It's not terrible, but I would prefer to see one on the rear and maybe one on the front.
On the right side of the computer is a DVD burner and reader, but it is not capable of reading or writing Blu-ray. This is not terrible, however, as I don't see many consumers embracing this medium nowadays, opting instead for streaming video and cloud-backup. Still, if you need one, an external variant can be connected.
On the top of the computer is a webcam, which is passable, but not of the greatest quality. Yes, people can see me clearly in video chat, but there is a lot of noise in the image. Like a Blu-ray burner, you can always add a better webcam by USB.
Believe it or not, it has NFC support, for tapping an Android smartphone with a special Lenovo app. The manufacturer describes the app as "designed for near-field data transfer and share of picture, video and music files between mobile phone and PC based on the NFC technology. User is able to download the picture, video and music files on the phone via PC". In other words, you cannot unlock your machine with it, but only transfer files. It is a bit gimmicky, as a USB connection would be faster and not require the NFC software to constantly run.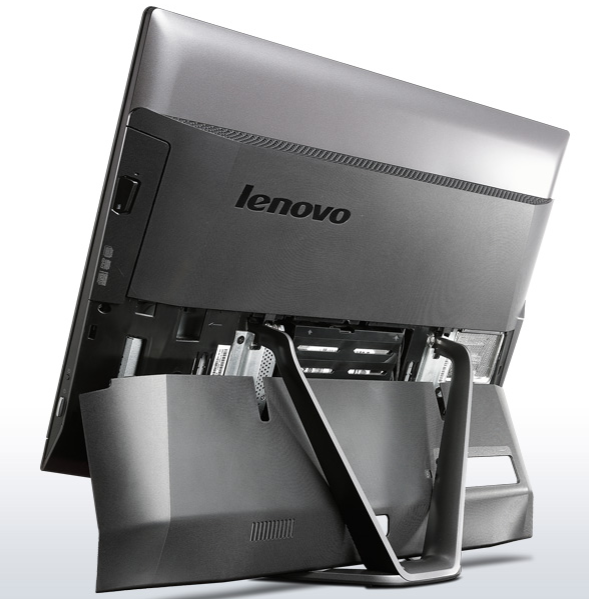 My only major complaint, however, is an internal fan. While it is normally quiet, sometimes it gets unbalanced, causing a rattling noise. To solve it, I just smack the computer and it goes away. With that said, that is unacceptable for a user. Keep in mind, however, that this may not be your experience, and is likely a one-off.
This fan issue highlights a big problem with all-in-one computers; a lack of upgradeability. Yes, I can probably open it up and try to locate the faulty fan, but it will not be easy and will likely void the warranty. Truth be told, I tried to access the part of the chassis that is designed to be opened (to access the SSHD and RAM), but gave up when I thought I might crack the plastic. With a traditional desktop, you could easily remove a side panel and replace the fan.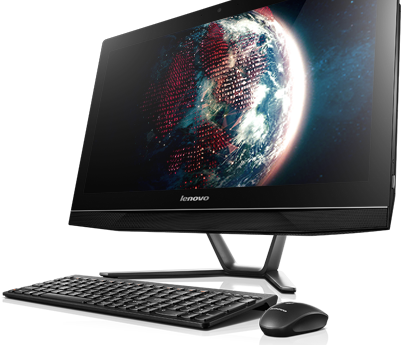 Conclusion
So, do I recommend this Lenovo B50-30 23.8 inch All-in-one? Absolutely. I don't expect the fan issue to be widespread; it is something that can happen to any machine from any manufacturer.
With the specifications as tested, the computer is crazy fast and very capable. For the most part, it can handle anything a home user throws at it. I particularly like this for a college student who uses it for double duty as as a TV, but is recommended for any user.
It is currently available at Best Buy (with the same specs as reviewed) for a very affordable $899. You can check it out here.