Emtec announces backwards-compatible DUO USB-C flash drive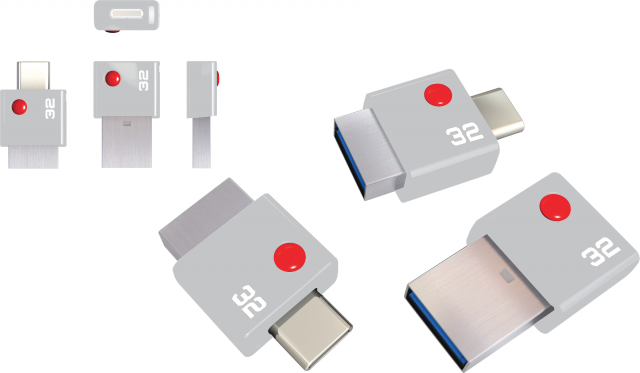 It's easy to get excited about the new USB Type-C connector. It's small, making even slimmer designs possible, it can be used to charge power-hungry devices, removing the need for dedicated charging ports, and, best of all, it can be plugged in both ways, making it easier to charge mobile devices at night. The last feature is certainly the highlight for most of us.
It all sounds great until we think about backwards compatibility. USB-C, as it's also known, is not compatible with older connectors, used on most PCs, laptops and consumer electronics, which severely diminishes its appeal. However, storage company Emtec has come up with an interesting workaround, announcing a USB-C flash drive which also features a full-size USB connector.
The USB-C flash drive, called DUO USB-C, gives prospective buyers the best of both worlds. The full-size USB connector means that it can be used with the aforementioned devices, while the USB-C connector allows it to work with cutting-edge devices like Apple's new MacBook and Google's second-generation Chromebook Pixel. As far as compatibility goes, there's no downside.
In terms of transfer speed, DUO USB-C, which is USB 3.0 compatible, promises speeds of up to 110 MB/s for reads and 20 MB/s for writes, regardless of the used connector. The flash drive is designed with road warriors in mind, measuring just 26 x 16 x 8 mm (1.02 x 0.62 x 0.31 inches).
Where Emtec's USB-C drive may come up short is in the capacity department. DUO USB-C is slated to hit store shelves only with 16 GB and 32 GB of storage, which may not prove sufficient for heavy users. The larger model can be easily filled with a couple of movies, after all.
Of course, lots can change until DUO USB-C is publicly available; hopefully we'll see 64 GB and 128 GB trims added to the lineup. The flash drive is slated to launch in the following quarter. There is no word yet on pricing.