At $800, Xiaomi's 55-inch 4K Mi TV 2 is the best freaking smart TV you can't purchase (yet)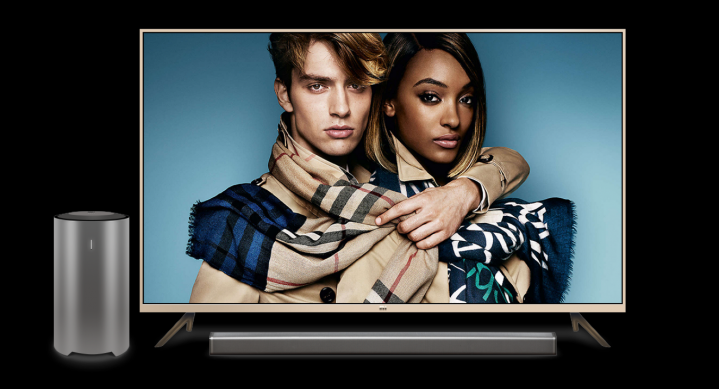 Xiaomi is back in the news once again. At an event in China, the Chinese technology conglomerate today launches the much anticipated new variant of its 4K TV. Called the Mi TV 2 (yep, no Mi TV 3 yet), the new version sports a 55-inch display and costs RMB 4,999 (equivalent to $800 USD).
The world's most valuable startup gleaned a lot of attention last week when it launched the 40-inch, full-HD variant in its Mi TV 2 lineup. The 55-inch television set is the successor to last year's 49-inch Mi TV 2 that retails for $640. The TV, which was until now only available in China, is expected to launch in India and other regions later this year.
As for the specifications of the new Mi TV 2, the set has a 15.2mm ultra-thin frame and just 6 mm bezel on three sides. One would assume that Xiaomi is using cheap materials to keep the price low, but that doesn't seem to be the case. The 55-inch 4K display (3840 x 2160 pixels) is manufactured by Samsung.
The new Mi TV 2 comes powered by a MStar 6A928 quad-core 1.4GHz processor paired with Mali-760 MP4 GPU. The company says that it has re-designed the Bluetooth subwoofer and sound bar. It comes with a Dolby MS12 virtual surround sound system. Other features include 2GB of DDR3 RAM and 8 gigs of eMMC5.0 flash storage. Much like the FHD variant of the Mi TV 2, the new version also supports H.265 codec, and out of the box support for popular media formats including MKV, and MP4 among others. The TV also supports Dual-band 802.11ac WiFi. If for some reason you were still not satisfied, the new TV also supports 3D movie playback. The company hasn't specified the operating system, but it is likely running on Android 4.4 KitKat with MIUI skin on top.
The new Mi TV 2 is available for purchase in China starting today. There's no word on international availability. But the good news is that the company last month announced that it will debut in United States and Europe markets later this year.
At the sidelines of the new Mi TV 2 launch, the company also announced a cheap variant of its already dirt cheap Redmi smartphone. The new variant is called the Redmi 2A and costs just $96. The company also launched a weight scale called the Mi Smart Weight Scale, which costs just $16. Furthermore, Xiaomi also unveiled a Mi Smart Plug Board which costs just 8 bucks.
What do you think about this company? Share your thoughts in the comments section below!