Silently uninstall multiple programs with Bulk Crap Remover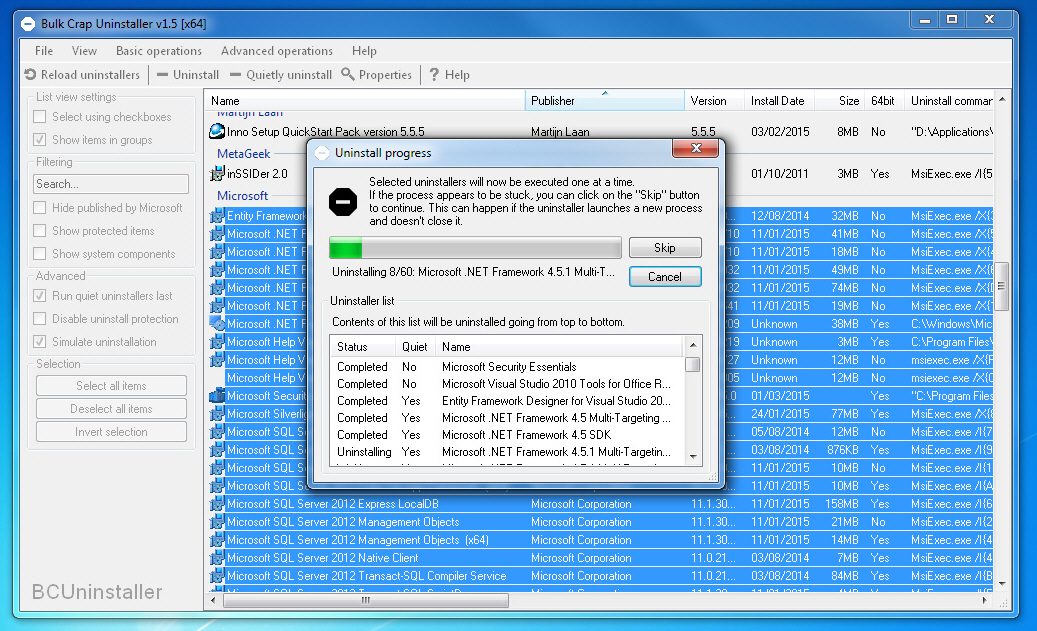 Uninstalling one Windows program is easy, but stripping out several can get a little tedious, as you sit around and wait for each uninstaller to finish.
Bulk Crap Uninstaller is a smart alternative to Windows' own "Programs and Features" applet, a simpler and quicker way to remove multiple programs with their own uninstaller.
Bulk Crap Uninstaller's first advantage is its detailed view of your installed software. As well as the basics -- program name, install date, version, size -- you'll see its "About" URL, whether it's 32 or 64-bit, its storage folder, Registry key, uninstaller type, product code, uninstall commands and more.
Right-clicking an application displays options to open its web page, view its storage location or launch its "Configure" dialog (that's the "Change" option in the standard Windows applet).
If you'd like to uninstall one or more programs, then just select as many as you like. When you're ready, click "Uninstall" to remove them as normal, or "Quietly uninstall" to remove them without seeing any further uninstaller prompts. (The "Quietly" option isn't available for every application but Bulk Crap Uninstaller can just run a regular uninstall instead.)
Bulk Crap Uninstaller relies on an application's own uninstall option, and can't remove troublesome programs itself, or clean up your system after removing something. If you need that, try Revo Uninstaller.
The program does offer some useful extras, though -- the ability to multi-select programs and run silent uninstalls -- and if that's all you're after then it's worth a try.