Samsung starts production on SM951-NVMe -- world's first M.2 NVMe PCIe SSD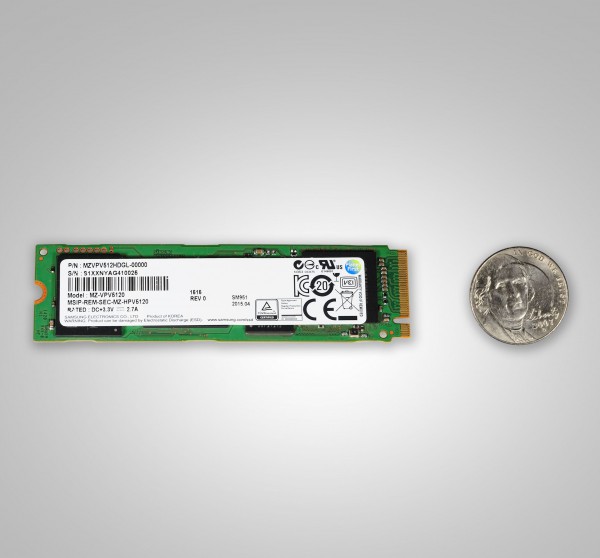 SATA based solid state drives are so 2014. We are already in Q2 of 2015, so it is time to step things up. While SATA drives will still meet the needs of many, enthusiasts are always looking for a new way to gain an edge.
PCIe NVMe PCIe SSDs are the future, and the market is starting to see more of these drives. With that said, NVMe PCIe drives have only been in the PCIe full and half-height form factors. Today, Samsung announces it is starting production on the world's first NVMe PCIe SSD to use the M.2 form factor.
"The new NVMe-based SM951 SSD achieves sequential data read and write performance up to 2,260 megabytes per second (MB/s) and 1,600MB/s, respectively, while using Samsung's leading-edge controller technology. These performance figures are the industry's most advanced, with speeds four and three times faster than those of a typical SATA-based M.2 SSD which usually moves data at up to 540MB/s and 500MB/s, respectively", says Samsung.
The manufacturer further explains, "the drive attains its high-speeds by using four 8 gigabit-per-second (Gbps) lanes (PCIe Gen 3.0 x4) of simultaneous data flow. This allows for a data transfer rate of 32Gbps and a maximum throughput of 4GB/s, giving the new drive a huge advantage over SATA-based M.2 SSDs, which can only transfer data up to 600MB/s. When it comes to random read operations, the SM951-NVMe can process 300,000 IOPS".

The M.2 form factor is preferable, as it can be used in small form-factor desktop PCs and laptops too. Plus, some ATX motherboards will feature an M.2 connector. More importantly, however, an M.2 card can be used with PCIe full and half-height adapter cards.
Pricing and availability are not yet known, but the drives will likely be expensive. What we do know for sure, however, is the promised capacities -- 128GB, 256GB and 512GB.