Samsung 850 EVO SATA SSD -- this is the drive you've been waiting for [Review]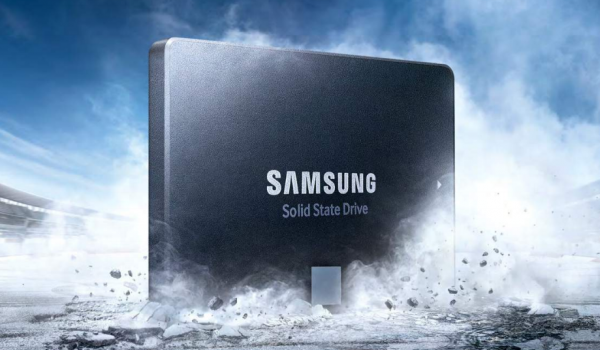 The absolute best upgrade for any computer that's operating system is running from a hard disk drive, is a solid state drive. Why? The performance increase is significant, while SSD prices are decreasing. In other words, you can speed up your PC without hurting your wallet.
The problem, however, is deciding which SSD to buy. While affordability and speed are important qualities, I tend to put a premium on reliability. Of course I want the drive to be fast, but the contents of the drive -- important documents and family photos -- trump anything else. Luckily, Samung's offerings have proven to be both reliable and fast, while also being reasonably priced. Today, I am taking a look at the latest and greatest SATA variant; the 850 EVO.
Upon opening the box, I was presented with rather slim pickings; the SSD and a CD-ROM. There is no 2.5 inch to 3.5 inch bracket for desktops, which I have seen included from other manufacturers. With that said, many desktop cases can accommodate 2.5 inch drives nowadays and if you really need the bracket, you can find one cheap on Amazon.
The drive (I am testing the 500GB variant) itself  is very lightweight and a beautiful black color. Whether you like the color is a matter of personal preference. Personally, I like the way that it blends into my desktop, rather than standing-out with bright colors like some other companies offer. Let's be honest though; if you are putting this into a laptop, enclosure, or windowless desktop case, who cares what it looks like, right?
With most solid state drives, you simply connect it to power and data, format it to your liking and are off to the races. While you can do that here too, you will want to take an extra step -- installing the Samsung Magician software. The name is not a misnomer, as the software really does work some magic. You see, Samsung's program makes the SSD scream; exceeding the SATA data spec with some sorcery, and offering much faster performance with a special Rapid Mode.
What is this special mode? Technically, it isn't magic or sorcery. Samsung explains, "when enabled, RAPID mode is inserted as a filter driver in the Windows storage stack. The driver actively monitors all storage-related activity between and among the operating system, user applications and the SSD. The RAPID technology analyzes system traffic and leverages spare system resources (DRAM and CPU) to deliver read acceleration through intelligent caching of hot data and write optimization through tight coordination with the SSD".
Keep in mind, this is a Windows-only feature. The drive will work fine for OS X and Linux, but the performance will be significantly lowered. Even on Windows, your CPU and RAM will impact performance too.
It is important to know that my Windows 8.1 test system is very conservative -- it is an AMD AM1 budget system. Below are the notable specs.
Motherboard: GIGABYTE GA-AM1M-S2H
APU: AMD Athlon 5350 Kabini 2.05GHz Quad-Core
RAM: AMD 8GB DDR3 1600
It is also important to note that I am using the 850 EVO as the Windows OS drive. In other words, it is not being benchmarked or tested as a secondary drive. It is connected directly to the motherboard, which has a SATA 3 connection and not an add-on card. Also, there are no other drives connected to the motherboard, except for a Blu-ray burner, which was never in use during testing.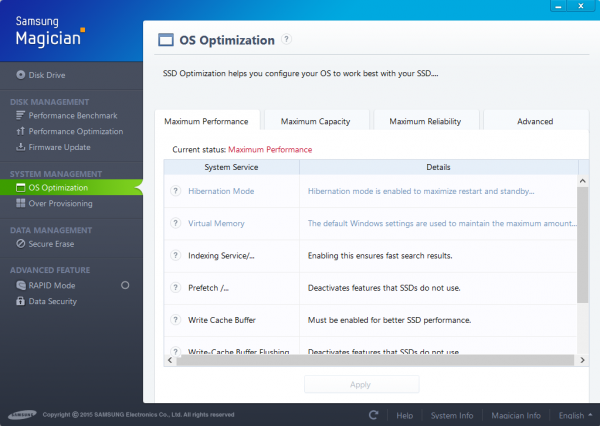 With Samsung's Magician software installed, I followed its instructions to optimize the drive and Windows 8. I set OS Optimization to "Maximum Performance", but there are also options for "Maximum Capacity" and "Maximum Reliability".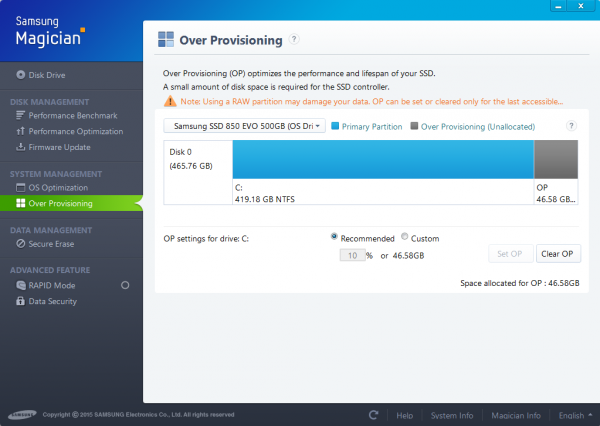 Also, I enabled Over Provisioning, which designates a small amount of space to remain unused. While this does decrease the available storage, it should increase both performance and lifespan of the 850 EVO. In my case, 465.76GB was available after formatting, and 46.58GB was reserved for this technique.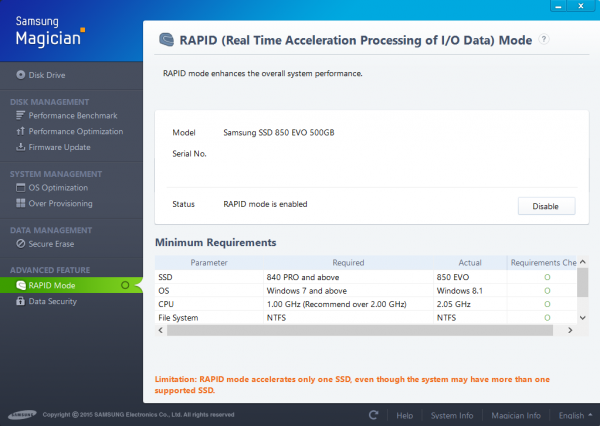 With everything optimized, it was time to close all non-essential running programs, and launch CrystalDiskMark x64. You can see the results below.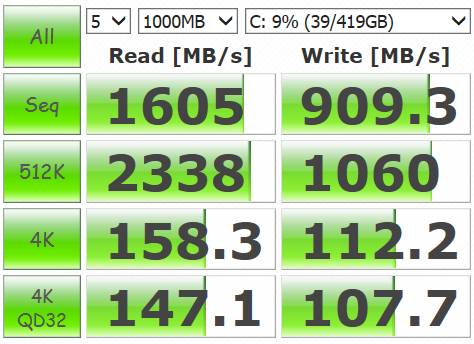 Do you see these impressive speeds? Insanity! Believe it or not, as great as these speeds are, they could be much higher with a more high-end system. Unfortunately, the AMD Athlon 5350 Kabini and associated platform is a bottleneck with the aforementioned Rapid Mode. With that said, most consumers do not have bleeding edge computers, so it is important to see reviews and benchmarks from low-end systems too.
In real world testing, the drive is extremely fast when moving files and booting. Quite frankly, this system boots faster than my higher-end Surface Pro 3.
Below is the performance with Rapid Mode turned off. This is the performance you can expect on Linux or OS X. This puts the speed more in line with normal SATA solid state drives. Again, the low-end nature of my desktop is likely a bottleneck here too. A more powerful CPU will likely yield a modest increase.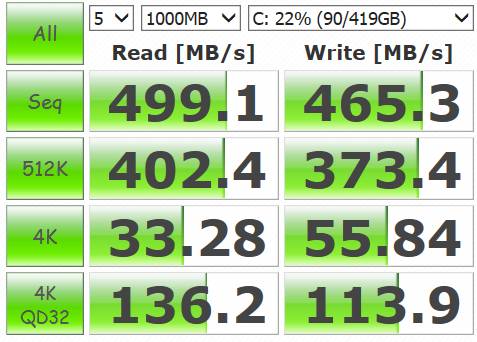 If you need a SATA SSD, and you run Windows, there is no other drive that you should be targeting. Not only is the 850 EVO blazing fast and well supported, but more importantly, Samsung's drives have proven to be reliable. If you value your data, Samsung is a smart choice. Even OS X and Linux users should consider the drive for this reason, despite the lack of the amazing Rapid Mode. Highly recommended.