At $149, Vensmile W10 mini PC is a handset-shaped Windows 8.1 device that ships in US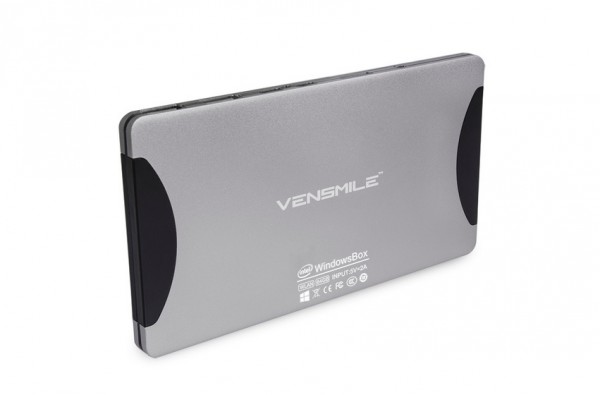 Remember the Compute Stick? The $149 pen drive-shaped HDMI dongle from Intel running on Windows 8.1? Well, we've just found another similar device -- only a better. Called Vensmile W10 mini PC, the handset-shaped block offers twice as much storage, with more ports but the same processor as Intel's Compute Stick.
As for the specifications, the miniature computer measures 5.9″ x 3.1″ x 0.39″. Underneath it sits an Intel Atom Z3735F Bay Trail processor coupled with 2GB of RAM, and 64GB of storage. For connectivity options, the Vensmile W10 mini PC supports Wi-Fi and Bluetooth 4.0. Interestingly, it packs in a 3,000 mAh battery as well, which not only can keep the device running in case of a power outage, but also serve as a power backup device to charge your phone or tablet.
In addition, there are two USB 2.0 ports, along with a micro USB port, a microSD card slot, a speaker output, and a mini HDMI port for external display output. As for software, the Vensmile W10 mini PC ships with Windows 8.1 with Bing out of the box.
One of the best things about this device is its availability. Unlike a bunch of Windows 8.1 dongles that have launched in the last couple of months but don't ship in the U.S., the Vensmile W10 mini PC can be delivered to your place for only $149 using AliExpress. If you're living in China, the device will cost you only $119.