Samsung introduces new UE590 and UE850 UHD monitors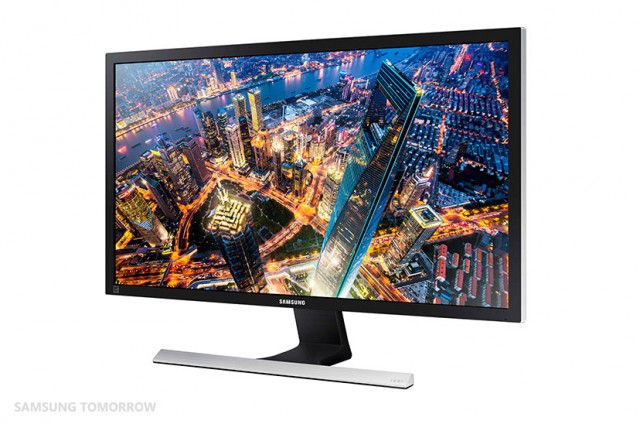 Today, Samsung is expanding its UHD monitor portfolio with the addition of two new lineups, called UE590 and UE850. The former is designed for consumers, while the latter is aimed at professionals. The newly-unveiled monitors can be had in 23.5-inch, 28-inch and 31.5-inch trims, the last of which is reserved for the UE850 lineup.
The consumer-oriented UE590 targets "entertainment seekers and avid gamers", promising a contrast ratio of 1000:1 and response times as low as 1 ms (gray-to-gray). Viewing angles differ among the two offerings, with the 23.5-inch U24E590D touting horizontal and vertical viewing angles of 178 degrees and the 28-inch U28E590D only featuring horizontal and vertical viewing angles of 170 and 160 degrees, respectively. The latter is also the one with the lowest response time; the former's response time is a higher 4 ms.
There are other differences too. U24E590D has a brightness of 300 cd/m2, while U28E590D pushes it to 370 cd/m2. The former supports just 16.7 million colors, while the latter boosts this to more than 1 billion. The latter also gets an extra software feature, namely Magic Angle, to compensate for its poorer viewing angles. Both tilt between -2 and 20 degrees, and offer 2 HDMI (one HDMI 2.0 and the other HDMI 1.4ax1) and 1 DisplayPort (version 1.2) ports.
Needless to say, the resolution is 3840 x 2160, no matter the size. Oh, and there is also AMD FreeSync support, allowing those who rock a compatible AMD graphics card to enjoy a synchronized frame rate with the monitor.
Moving on to UE850, for this lineup Samsung has added a few extra hardware features that more demanding users are likely to appreciate. There's a higher tilting range, from -5 to 22 degrees. The monitors can swivel between -25 and 25 degrees, and pivot between -1.5 to 91.5 degrees. There is also a height-adjustable stand, which can raise the monitor's position by up to 130 mm.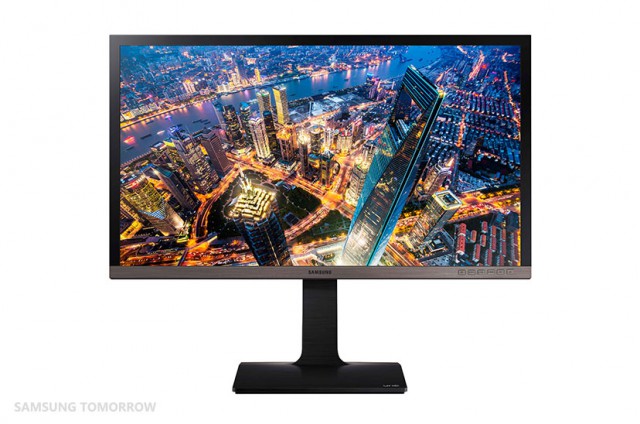 Just like with the UE590 series, there is an option for those who need the lowest response time, with U28E850R featuring a response time of 1 ms. Just like U28E590D, it also supports more than 1 billion colors, unlike the other two monitors in the lineup, which make due with support for just 16.7 million colors.
Brightness for U28E850R is 370 cd/m2, while for U24E850R and U32E850R is 300 cd/m2. Contrast ratio is the same at 1000:1. U28E850R loses in the viewing angles department, offering viewing angles of 170 degrees horizontally and 160 degrees vertically. Both U24E850R and U32E850R top it, with viewing angles of 178 degrees both horizontally and vertically.
U24E850R features the following ports: 1 HDMI version 2.0, 1 DisplayPort version 1.2 and 1 mini DisplayPort. U28E850R and U32E850R each add 1 HDMI version 1.4ax1 port. All feature four USB 3.0 ports, two of which being super-charging-enabled.
There is no word on pricing and exact availability.