Netrunner 16 'Ozymandias' is here -- the best KDE Linux distro gets better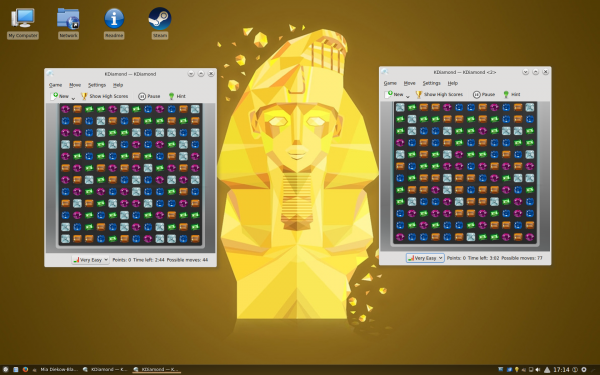 One of the wonderful things about Linux distributions is the various desktop environments available. Unlike Windows and OS X, if you do not like the user interface, you can simply change it. I am a big fan of GNOME 3, but I know that many people dislike it. That's OK -- different strokes for different folks as they say.
Another desktop environment I like, and recommend to many, is KDE Plasma. The latest version, Plasma 5, is wonderful, and former Windows users will feel comfortable with it. Today, the best KDE distribution, Netrunner, reaches version 16. Dubbed "Ozymandias", it embraces KDE Plama 5.
In what is probably the most bizarre operating system release announcement I've ever read, Clemens Toennies explains why they chose the name "Ozymandias". You have been warned of the oddness!
"I met a traveler from an antique land…And he told that there once was a mighty king in the land of ancient desktops, called KDE -- The King of DEsktops! And though the name and places have changed, its stories are still told and memories recalled. As it is known, there comes a point in time, where all things present must become a thing of the past to make way for the new and shiny", says Toennies.
Toennies further shares, "much like sand exposed to heat is transformed into something new called silikon, Plasma was formed out of the building blocks of its ancestor KDE 4. And so the old king is back – in its new incarnation called Plasma Desktop 5 ! The Plasma Desktop carries all the DNA of its predecessor and molds it into something new: A thing of the future, for the next generation to come. So when using Plasma 5 today, let's not forget: We're standing of the shoulder of Giants! Like Plasma5 followed KDE4, from the fires of Prometheus emerged Ozymandias, ready to roam the realms of computing."
Wow. OK. Nonsense aside, here are the following updated packages in the release.
Kernel 3.19.0~16
Plasma 5.3
KDE Applications 15.04
Firefox 37.0
Thunderbird 31.6
LibreOffice 4.4
VLC Media Player 2.2
Gmusicbrowser 1.1.14
Audacious 3.5
Krita & Karbon 2.8.5
Gimp 2.8.10
Pidgin 2.10.9
vokoscreen 2.1
So why do I call Netrunner the best KDE Linux distro? First off, it is based on Kubuntu, meaning there is plenty of support and available packages. Ubuntu users should be right at home.
What sets the OS apart, however, is the level of polish -- it is beautiful and chock full of useful pre-installed software. You can tell that the developers truly care about this operating system. I suggest trying it out for yourself to see what I mean.
If you are interested, you can download the ISO using the Torrent here.