SanDisk announces Z400s SSD -- can this low-cost OEM drive finally kill the HDD?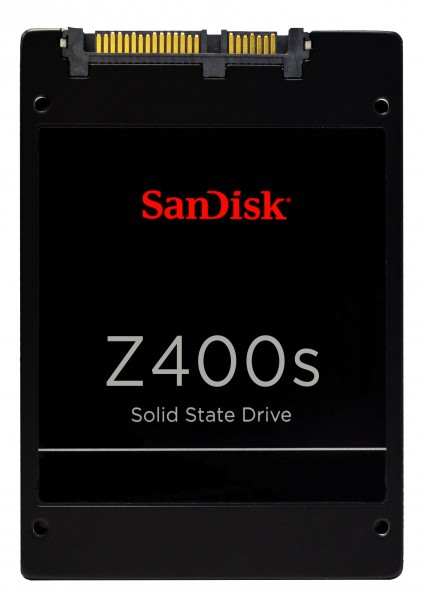 If you are still running your operating system from a mechanical hard disk drive, you do not know what you are missing. Solid state drives have dropped dramatically in cost, while improving greatly in reliability; it is a shame that all computer users aren't using them. Unfortunately, even if the average user wanted to upgrade to a SSD, the process is probably too difficult -- both the physical aspect and copying data.
The best way to get users onto solid state drives is to have manufacturers stop making computers with HDD. This is easier said than done, however, as profit margins on these machines are often razor-thin. It can be impossible for OEMs to offer SSDs on low cost systems. Today, however, SanDisk announces the Z400s SSD. The company promises low costs for OEMs, which should translate to SSDs in lower-cost laptops. Can this finally displace the HDD?
SanDisk explains the Z400s SSD is a "cost effective solid-state drive (SSD) designed to replace hard-disk drives (HDDs) in computing platforms and embedded applications. PCs and embedded systems need consistent, reliable access to storage in order to meet business demands. The Z400s outperforms HDDs by 20x, while providing 5x the reliability with 20x lower average power consumption, all at a price point on par with HDDs".
"The Z400s represents a feat of engineering that addresses the needs of two distinct markets -- PC OEM manufacturers and embedded application designers. With a single architecture, SanDisk is able to provide OEMs with an affordable solution for displacing HDDs in today's cutting edge consumer devices, and help embedded application designers avoid overpaying for un-needed space --all while delivering the peak performance and high-reliability that only SSDs can supply", says Rizwan Ahmed, senior director of product marketing, client platform solutions, SanDisk.
Specifications.
Form Factors: 2.5 inch 7mm cased, M.2 2280, mSATA
Capacities: 32GB, 64GB, 128GB, 256GB
Interface: SATA Revision 3.2 (6 Gb/s) backward compatible to SATA Revision 2.0 (3 Gb/s) and SATA Revision 1.0 (1.5 Gb/s)
Sequential Read/Write: Up to 549/330MB/s
Random Read/Write: Up to 33/62k IOPS
Endurance (TBW): 20 TBW (32GB), 40 TBW (64GB), 72 TBW (128 and 256GB)
Active Power (mW):50
Slumber(mW): 20
DEVSLP(mW):≤5
Weight(g):

2.5 inch 7mm: 30 ± 1g
2.5 inch 7mm: 30 ± 1g
mSATA: 5.0 ± 0.5g

Operating Temperature: 32ºF to 158ºF (0°C to 70°C)
Non-operating Temperatures: -67ºF to 185ºF (-55°C to 85°C)
Operating Vibration: 5 gRMS, 10 – 2000 Hz, 3 axes
Non-operating Vibration: 4.9 gRMS, 7 – 800 Hz, 3 axes
Operating/Non-operating Shock: 1,500 G @0.5 msec half sine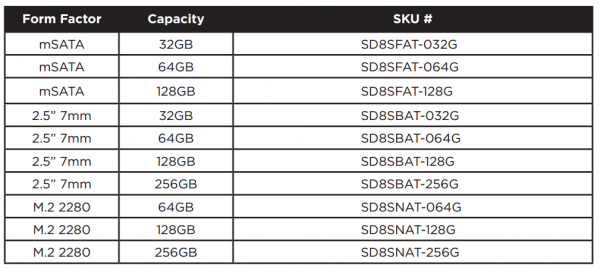 Here's the problem; while SanDisk promises low costs, it hasn't actually revealed the prices. This is not surprising, however, as it will likely vary based on agreements with OEMs; the more they buy, the lower the price, most likely. Remember, this is not a drive intended for consumers to buy directly.
With that said, consumers probably wouldn't want to buy this drive anyway, due to the poor write performance. While much better than a HDD, 330MB/s is not a desirable speed for enthusiasts. It will appropriately be installed in low cost machines. My only fear is that OEMs may install these in mid-range machines too, in an effort to increase profits.
SanDisk touts the low-power of the Z400s as a plus for embedded applications, and I suppose that is true, but quite frankly, almost any SSD would be. This comes across more as marketing than anything else.
Can this SanDisk solid state drive (SSD) kill the hard disk drive (HDD)? In it's entirety? No. However, the ever-decreasing prices of SSDs coupled with the increasing adoption of the cloud will make this happen eventually. Kudos to SanDisk for trying to accelerate the eventual demise of the mechanical hard drive.
Does your operating system still run from a HDD? Tell me in the comments.