Google announces Android Pay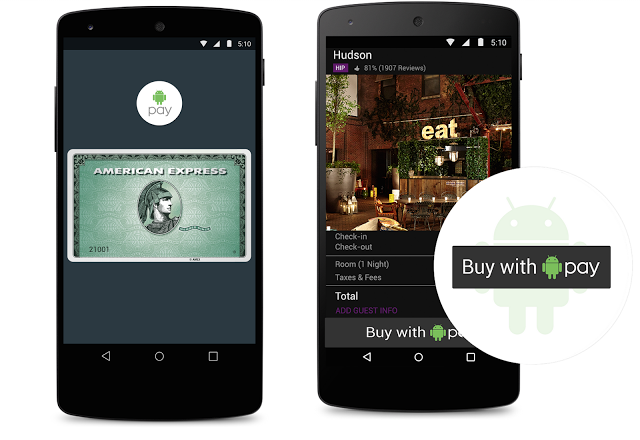 Apple Pay now has some serious competition, as Google today announced its own contactless payments solution, called Android Pay, at its Google I/O 2015 developer conference. Android Pay will "soon" be available, as an app, through Google Play.
Android Pay will be an open platform, so developers will be able to integrate it into their apps to allow users to easily pay for things. Bringing its contactless payments solution to market, Google says that it is "bringing together mobile carriers, payment networks, banks and retailers".
Just like Apple Pay, Pay your way with Android requires an Android device with an NFC chip to work. There are no details yet which Android versions Android Pay will be compatible with, but, needless to say, the latest incarnation of the operating system, known only as Android M at the moment, will surely support it. Fortunately, NFC is a common feature in the Android world, so there's a large pool of supporting devices which could be supported.
Google says that, to pay with Android Pay, all that users need to do is unlock their smartphones and place it near a contactless payments terminal. The Android Pay app will do the rest, showing a confirmation of the completed payment afterwards.
Android Pay is said to support loyalty programs, with Google giving MyCokeRewards as example. What's more, special offers will automatically be taken into account come checkout time. These two pieces of information will be shared with contactless payments terminals for convenience, but your credit and debit card numbers will not. Google designed Android Pay to handle such sensitive information as virtual account numbers.
Android Pay will also work for online purchases, with users only having to select "Buy with Android Pay" as the payment method of choice to leverage the product. Google has teamed up with payments processors Braintree, CyberSource, First Data, Stripe and Vantiv to ease app integration; similarly, it has also partnered up with banks to integrate Android Pay into their banking apps. Some of the prominent payment network partners include American Express, Discover, MasterCard and Visa.
Android Pay will work across multiple Android devices, which will surely be welcome by those who are entrenched in the Android ecosystem. Again, we will have to see which Android distributions are supported before assessing the potential user base.
Google says that Android Pay will be accepted at over 700,000 locations across US, like Best Buy, McDonalds, and Walgreens, and over 1000 Android apps, like B&H, Domino's, Groupon and OpenTable.