Google Play gets a family-friendly makeover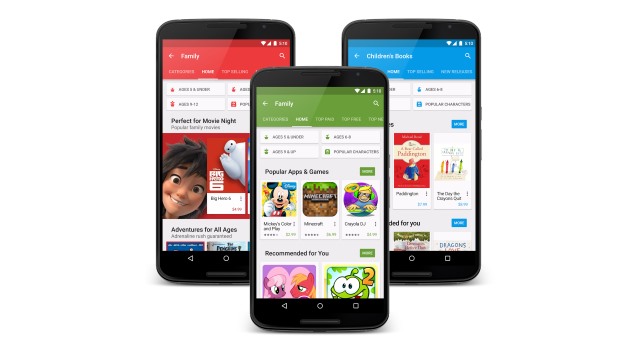 All eyes are on Google today, and there are certainly plenty of announcements to take on board. As well as exciting future releases such as Android M, there are also changes to old favorites. Google Play is one stalwart that's in line for an update, and this time around Google has decided to focus on making the store a family-friendly experience.
To allay the fears of concerned parents who are worried about what their kids might stumble across while looking for apps and games, Google is introducing a new Family category. There is a strong focus on making it easier to select content that's suitable for specific age groups and the categorization is available across apps, games, books, movies, and TV shows.
In addition to grouping content together by age group, Google also filters by interest. This should make it easier to help parents find something to keep children of all ages entertained, or even help them to learn something new. If there's one thing that kids love, it's a good character -- who doesn't know someone who is obsessed with Frozen? If it is the branding of an app, game, or movie is what matters, Google has made it easier to home in on content relating to a particular character.
Advertising in apps for children is something that concerns many people, and Google is only too aware of this. Now any app that is ad-supported is highlighted with a suitable label so the presence of advertising is known in advance. To ensure that younger children are not exposed to unsuitable content, Google has also updated parental controls to make it easier to impose age restrictions and prevent the downloading of paid-for content.
If you don't see the new features straight away, just be patient; Google says the changes are rolling out over the next couple of weeks.