Microsoft begins advertising Windows 10, gives users a quick option to reserve free upgrade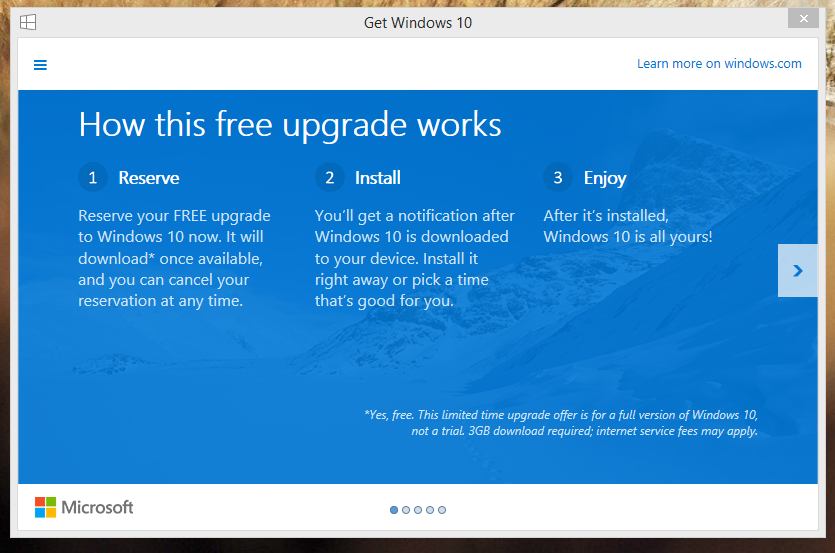 Microsoft will be releasing Windows 10 -- at least some versions of it -- this summer. The company hasn't announced a specific release date yet, but it has apparently started to notify people about the impending release of its forthcoming operating system.
As a user on Reddit notes, the Redmond-based company has started to roll out what appears to be the first push ad of Windows 10 to Windows 7 and Windows 8.x users. As seen in the screenshot above, the company is reminding users that Windows 10 will come as a free upgrade to them, and is also giving them an option to 'reserve' it. Opting into this will essentially initiate an automatic download once Windows 10 becomes available. The final version of Windows 10 will weigh around 3GB, the notification reads.
The advertisement seems to be appearing for users who recently installed the optional update dubbed KB3035583. Those of you who find the ad annoying, can simply uninstall that particular update.
Meanwhile, Newegg recently began to accept pre-orders of two versions of Windows 10, unwittingly also revealing the price information. The online retail store lists Windows 10 Home at $109.99, and Windows 10 Professional at $149.99. Of course if you have a legit copy of Windows 7 or Windows 8 (or 8.1 or 8.1 Update), Windows 10 will be a free upgrade for you. The listing also reveals that Windows 10 will begin shipping on August 31.