First Windows 10 RTM candidate is build 10176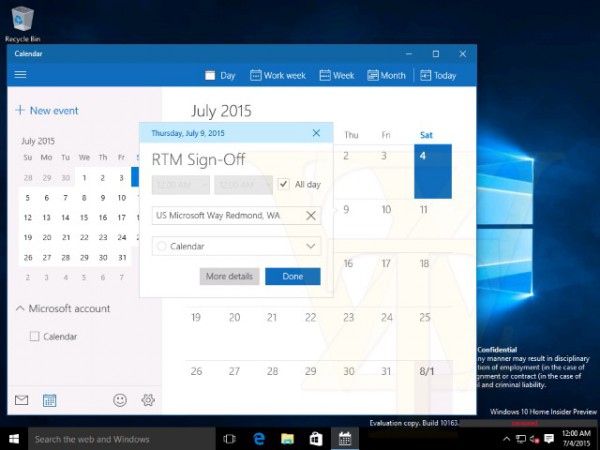 With just over three weeks until the launch of Windows 10, preview builds are still popping out left, right, and center -- some more official than others. Microsoft is beavering away on the final build which will start to roll out on 29 July, and it seems that the RTM version could be signed off as early as this week.
Build tracking site BuildFeed shows that Windows 10 Build 10176 from the th1 branch (a reference to threshold, Windows 10's codename) is now being tested as a release candidate. With a full build string of 10.0.10176.16384.th1.150705-0552, the appearance of this version ties in neatly with a rumor that RTM might be reached this week -- perhaps as early as Thursday.
It has been suggested that the screenshots of the leaked build 10163 contain a hint at when RTM might happen. Wzor's screenshots include an image of the Calendar app which shows 9 July as RTM Sign-Off day. Of course, Wzor is not an official source, but as a leaker has a near-impeccable record of reliability.
With the recent acceleration in build releases, it's possible that Windows 10 Build 10176 will be released to Windows Insiders to try it out for themselves. Even if this does not happen, it's clear that Microsoft is now very much on the home straight, busying itself with the final nips and tucks before the big day rolls around.