Microsoft releases Windows 10 Build 10240 to both Fast and Slow rings -- possibly RTM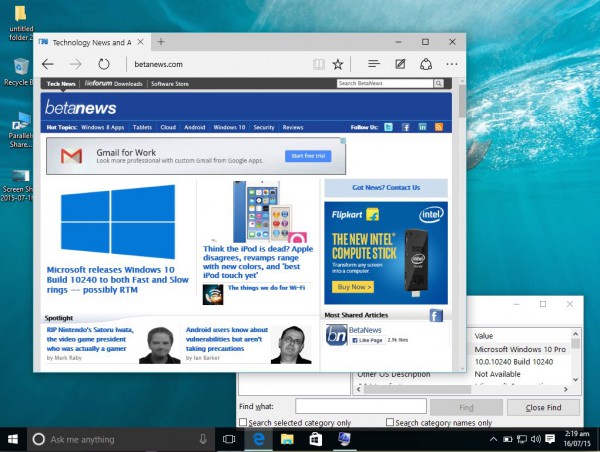 Microsoft has a new build for all its beta testers. The company announces today that it is releasing Windows 10 Build 10240 to both the Fast and Slow rings. What could be the RTM version (the final version of a product released to the manufacturers), the new build brings along several minor changes and a performance boost.
Chief among those features is the watermark, or its lack thereof, to be precise. That's right, the watermark as gone, which shows how close we're getting to the full thing. In the new build, Microsoft has also further optimized its Edge browser to make it more efficient. The company claims the new browser is significantly faster than Chrome, and has published different benchmarks to show its speedy superiority.
In a blog post, Windows Chief Gabe Aul notes that developers will be able to upload their Universal Windows Applications to the Windows Dev Center using production quality Windows 10 tools on July 29th. He also shared some updates on Office. Aul notes that come next week, users will need an Office 365 subscription to use it.
To snag the update launch Windows 10 and go to Start > Settings > Update & Security > Windows Update > Check for updates. Let us know in the comments below your views on the new build.