Nintendo and Facebook partner on new Super Mario Maker video game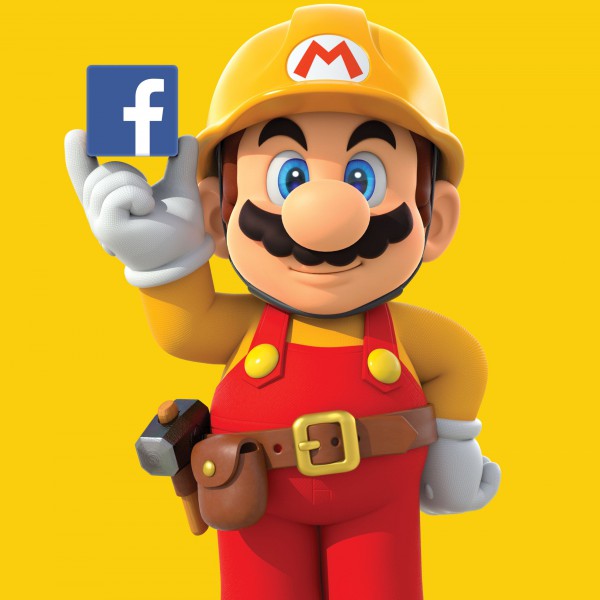 The first video game that I ever fell in love with was Super Mario Brothers for the Nintendo Entertainment System. While I had a second-hand Atari 2600 with Mario Brothers, it did not compare to the magic of the "Super" variant on Nintendo's console. While I bought every home Nintendo console since the NES, I did not buy the most recent one, the Wii U. While Nintendo consoles have always been about the software -- hardware specifications be damned -- I felt that company was too conservative with this newest console and delivered a sub-par product.
The upcoming Wii U exclusive game, Super Mario Maker, however, has me wishing I had the console. Much like the classic Nintendo games Excite Bike and Wrecking Crew, the user can create and edit levels. In other words, anyone that buys the game can contribute to the Mario universe, and even share it online. Today, Nintendo announces that it is partnering with Facebook for a very special level in the game.
"Super Mario Maker is the ultimate evolution of the Super Mario Bros. series and lets players' imaginations run wild. For the first time ever, friends can have fun playing through levels they create for one another. The Wii U GamePad controller makes it so easy for anyone to create levels that it feels like simply sketching out ideas on paper. Players with Internet access can enjoy a seemingly endless supply of inventive Mario levels inspired by Super Mario Bros., Super Mario Bros. 3, Super Mario World and New Super Mario Bros. U from players around the world", says Nintendo.
Nintendo further explains ,"the Super Mario Maker hackathon is exclusively for Facebook employees to design a special level in the game. At the event, participants will be using the demo version of the game that drew rave reviews at the recent E3 video game trade show to create levels using the in-game tools that will become available to a wider audience when the game launches exclusively for Wii U on the 11th of September. The event will culminate with designers presenting their creations to a panel of judges from Nintendo and Facebook. The winning individual or team has the opportunity to make the level available for Super Mario Maker owners to play after the game's launch".
How very cool. Facebook employees will create a special level that will be playable by all people that purchase Super Mario Maker. In other words, Facebook is contributing to the development of the game. Even cooler, however, is that anyone can contribute levels -- that is the beauty of the game, Nintendo has created a simple platform for anyone to be a level creator and game contributor!
Are you excited to play the Facebook level in Super Mario Maker? Tell me in the comments.