Toshiba announces Windows 10-ready Tecra A50 laptops for SMBs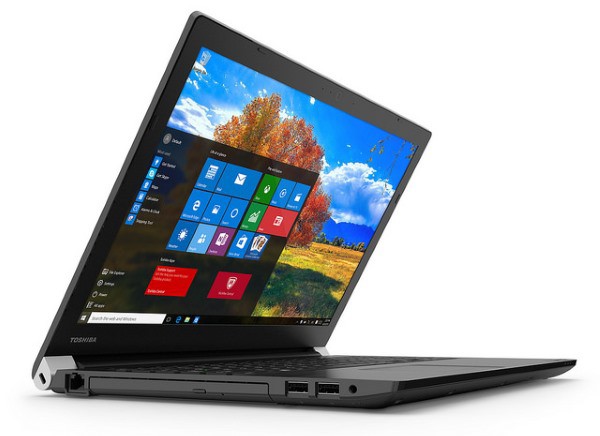 With Windows 10 now out of the starting blocks, a slew of hardware is beginning to appear to take advantage of Microsoft's latest operating system. Adding to its existing SMB lineup, Toshiba today unveils its Tecra 50 range of laptops.
Designed with small businesses in mind, the Tecra A50 can be customized with an Intel Core i5 or Intel Core i7 processor, and features a 15.6-inch display. A user-replaceable battery provides almost 8 hours of power for those on the move, and security is offered by support for Toshiba Cloud Client Manager and Trusted Platform Module (TPM) v1.2. With a starting price of just $729.99, this is an inexpensive system that will appeal to SMBs with a budget.
It's not just software security that's to be found in the Tecra A50. There is also EasyGuard Technology, which offers "multi-tiered security and data protection measures that guard components against accidental bumps". In terms of connectivity, there are two USB 3.0 ports, and one USB 2.0. You'll also find full-size HDMI and VGA ports, Gigabit Ethernet, and an SD Card reader. There's an optical drive and a full-sized keyboard replete with number pad, too.
Toshiba's Carl Pinto says there is a lot for SMBs to investigate:
Small and mid-sized business need more enterprise-class features and performance than ever before, but for a low total cost of ownership. Our line of SMB products not only delivers powerful, secure devices that each meet the varying needs of this segment, but are now Windows 10-ready, enabling businesses and IT departments to take advantage of the new platform as soon as they are ready.
The Tecra A50 range will be available from August; the Tecra A50-C1510 and Tecra A50-C1510W10 will be available for $729.99, while the Tecra A50-C1520 has a MSRP of $799.99. Despite the price, Toshiba offers a guarantee system, that in the event of LCD panel, hard drive, memory, or system board failure, the company will supply a new replacement laptop.