HP ProBook 455 G2: A low-cost business notebook for Ubuntu lovers [Review]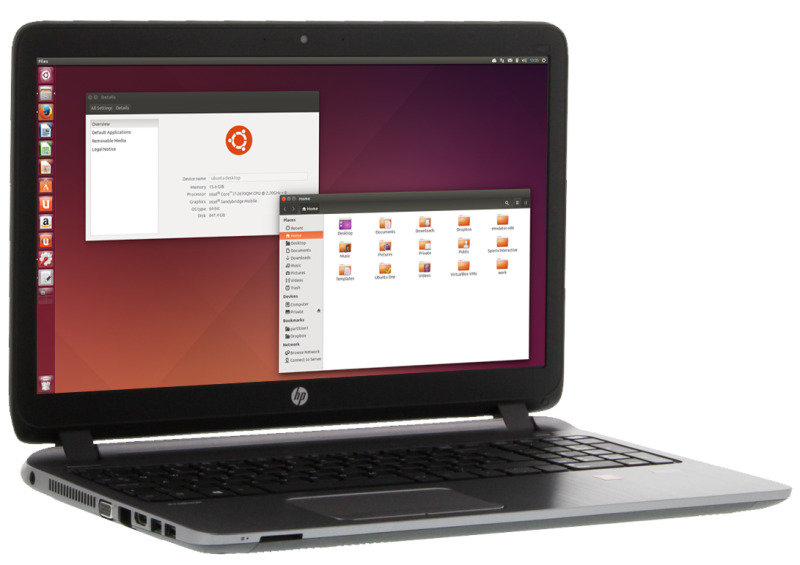 Most of the laptops you can buy come with Windows pre-installed. Obviously the latest batch have Windows 10 on them, with more being announced daily. If you prefer Linux you can either replace Microsoft's operating system with your distro of choice, or set up a dual boot configuration.
Online retailer Ebuyer, however, offers Linux-minded consumers a third option with its range of HP ProBook notebooks that come with Ubuntu pre-installed. There are three models on offer: HP 255, HP 355, and HP 455.
The HP ProBook 455 G2 notebook, which is the one I'm looking at here, is 345mm(w) x 244mm (d) and 25.3mm(h) in size and weighs 2.15KG. It has a 139.6cm (15.6 inch) matte display offering a maximum resolution of 1368x768 (WXGA) and is powered by a quad core AMD A10-7300 processor running at 1.9GHz, with Radeon R6 Graphics.
The notebook comes with a single stick of 8GB DDR3L memory (there's a spare RAM slot inside should you wish to boost this to 16GB) and a 1TB 5400RPM hard drive. Getting to these is just a matter of removing a single screw and sliding the back off.
There's also a built-in DVD writer (I'm always pleased to see one included, even if I have little use for it this days, it can be handy in business situations), 720p webcam, 2x USB 2.0 ports, 2x USB 3.0 ports, one VGA and one HDMI port. There's also a headset jack, Ethernet port, and Kensington lock hole. At the front there's an SD-card slot, always a welcome inclusion for me.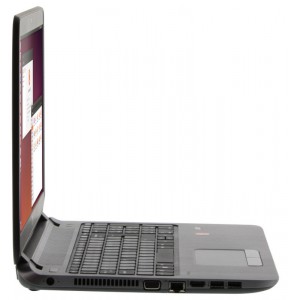 Connectivity comes in the form of 802.11b/g/n wireless and Bluetooth 4.0.
There's a removable 40Wh 4-cell Lithium-Ion battery, which I found lasted for around 8 hours in idle mode and a couple of hours when under load. On average, in a day-to-day situation, you'll probably get around 3-4 hours of use before needing to plug it in.
Looks wise, the notebook is stylish, if slightly nondescript, with a charcoal gray lid and silver trim. The lid does tend to collect fingerprints after a while, but aside from that, it looks good. There's a brushed aluminum plate around the comfortable island keyboard.
Getting started takes a while as Ubuntu requires a first run to get everything setup, and then you'll likely want to update too. If you're familiar with Ubuntu (and I can't really imagine anyone who isn't opting to buy a Laptop with Canonical's OS pre-installed) you'll know what to expect.
The version of Ubuntu is 12.04.5 LTS (Precise Pangolin) 64-bit, which is rather old. I would have expected the notebook to be on 14.04 (Trusty Tahr). The Hardware Enablement Stack (HWE) was out of support as well, which meant a lot more updating than I would have liked.
The quick start leaflet that comes with the laptop explains how to use it but, comically, the instructions are for Windows. However there's a shortcut to a PDF covering Ubuntu to be found on the desktop.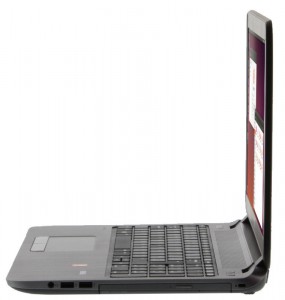 The touchpad is large with two separate buttons below. It's fine overall, although initially clicking and double-clicking was a bit hit and miss. A spot of tinkering with the settings quickly sorted this out.
The speakers are positioned just under the screen, and provide decent audio, with clear and reasonably loud sound.
Obviously this is a business laptop, rather than one for gamers, so performance is average, rather than exceptional, but for the price -- £299.99 including free delivery -- you're not going to be disappointed. In fact if you buy today (31 July), there's a £100 trade in offer which makes it even more of a bargain.
Although it requires a bit of setting up -- you can of course use it without updating if you want to just crack on -- it's a decent, low cost offering that's definitely worth a look.