Silver underpants protect your family jewels from Wi-Fi radiation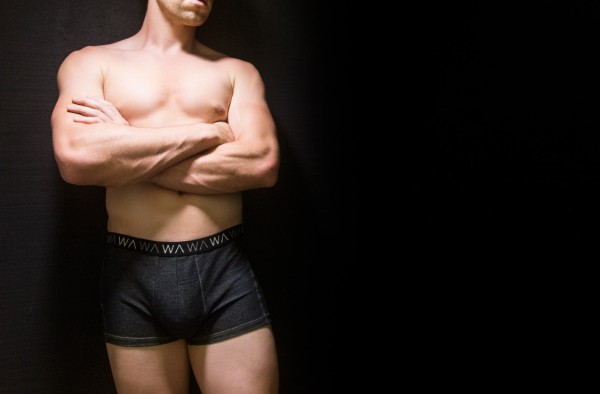 More and more of the devices we use these days rely on wireless signals for their connectivity. If you're male you quite likely carry your smartphone in your trouser pocket or use your laptop or tablet on your knee, which means these signals are being transmitted in close proximity to your gentleman's area.
Should you worry about this? A 2014 study by the University of Exeter suggests that just one hour's exposure to radiation from a mobile phone can reduce in vitro (outside the body) sperm motility to 49 percent and viability to 52 percent. In addition the World Health Organization has classified electromagnetic radiation in the same category of harmfulness to humans as petrol exhaust fumes.
So, short of going back to wired connections or lining your trousers with tin foil what can you do? A British scientist has come up with a solution in the form of underpants made with silver. By using a mesh of pure silver woven into fabric the pants claim to shield against 99.9 percent of harmful electromagnetic radiation (EMR) emitted by Wi-Fi devices.
For people of a certain age the mention of silver underpants will probably bring to mind the scene in Dune where Sting emerges from the shower in a rather disturbing pair of budgie smugglers and an even scarier ginger hair do. But fear not, Wireless Armour uses silver threads woven into the cotton so you won't look like you're wearing a cast off from NASA.
"Like so many people, my smartphone and laptop use has increased dramatically in recent years which made me realise that I was exposing myself to large amounts of electromagnetic radiation, mostly centred on my groin," says London scientist and Wireless Armour inventor, Joseph Perkins. "With my physics background I knew there must be a way to shield from electromagnetic radiation using a simple solution. Wireless Armour has been tested by an industry leader in wireless shielding and the results show that our fabric shields against 99.9% of the radiation emitted between 100MHz to 2.6GHz. Put simply, this covers the entire range of radiation emitted by wireless devices, from voice and text through to 4G and Wi-Fi, almost everything is blocked."
Silver has the added advantage of being anti-microbial so you'll end the day fresher and more hygienic as well as being protected against wireless emissions.
At between £24 and £35 ($37 to $55) a pair from the company's website Wireless Armour undies aren't cheap, but what value do you place on your fertility?