Opera Max can now compress Netflix and YouTube videos, lowering data consumption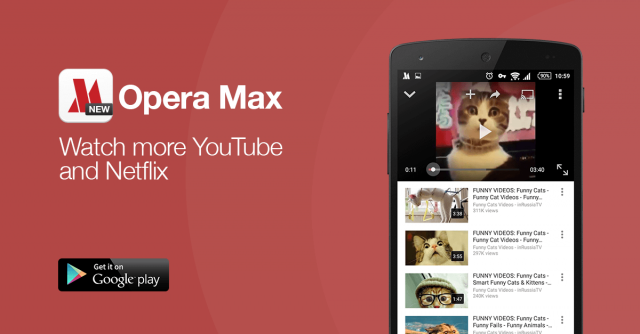 Video streaming is one of the quickest ways to max out a data plan. This is especially true for high-definition videos, which are the commonplace on websites like Netflix and YouTube and, understandably, the obvious quality choice for many mobile viewers. Since not everyone can afford or have the option to use an unlimited data plan, we often have to sacrifice how much content we watch to not pass the traffic limit.
However, an update to Opera Max for Android promises to let us watch more videos without sacrificing much in terms of quality. The app can achieve such results through compression, and the feature is now enabled for Netflix and YouTube.
Opera says that it will add support more video services in the coming months. Even so, supporting only Netflix and YouTube, at the moment, covers a significant portion of Internet video streaming traffic, so the app is off to a good start.
There is another benefit to compressing video and, according to Opera, that is reduced buffering times, which can normally be a problem on high-latency and slow mobile networks. So it will also allow folks that do not usually have access to higher data speeds on their Android devices to watch high-definition content more quickly, without having to pause videos as much.
Opera does not mention how much savings users can expect in terms of data consumption, only saying that this depends on the type of network, mobile or Wi-Fi, or mobile device they are using. That being said, using the app is said to lead to savings of up to 50 percent in data consumption.
You can download Opera Max for Android from Google Play.