Qualcomm announces Quick Charge 3.0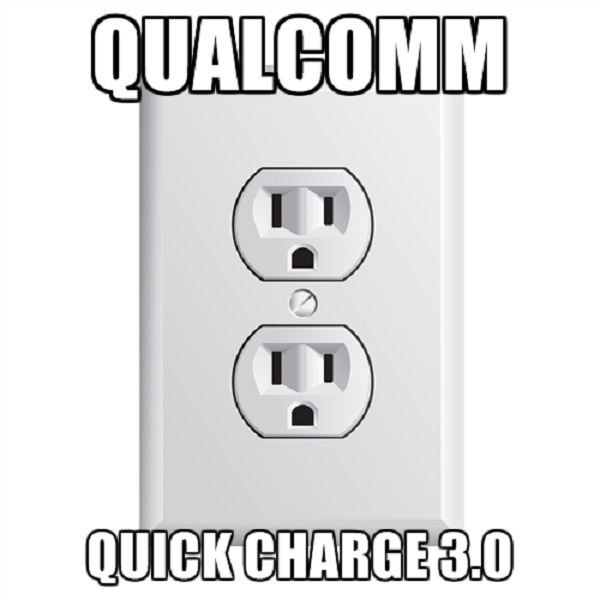 As our electronics become more and more advanced, there is still something that is severely lacking -- battery life. While there are always promises of longer-lasting batteries, they still prove to be deficient. Making it through a full day with heavy use is still impossible for most smartphones, causing consumers to carry battery packs and spare chargers.
Qualcomm's Quick Charge technology has been a godsend for charging. While it won't make your battery last longer, it will allow you to juice it up much faster. The second version of the technology, for example, can charge a device 75 percent faster than traditional methods. Today, the company announces Quick Charge 3.0 and it means even less time tethered to an outlet. Hallelujah!
"Quick Charge 3.0 is the third generation of this technology and is the first of its kind to employ Intelligent Negotiation for Optimum Voltage (INOV), a new algorithm developed by Qualcomm Technologies, designed to allow portable devices the ability to determine what power level to request at any point in time for optimum power transfer, while maximizing efficiency. With Quick Charge 3.0 you can charge a typical phone from zero to 80 percent in about 35 minutes compared to conventional mobile devices without Quick Charge that may typically require almost an hour and a half".
The company also shares, "additional improvements offered by Quick Charge 3.0 include enhanced flexibility over Quick Charge 2.0, notably in terms of charging options. While Quick Charge 2.0 offers four charging voltages at 5V, 9V, 12V and 20V, Quick Charge 3.0 provides flexibility with 200mV increments from 3.6V to 20V. This allows the phone to request just enough voltage to reach the desired charge current, resulting in minimized losses, increased efficiency, and improved thermal performance".
So, which of Qualcomm's mobile processors will support the new Quick Charge 3.0 technology? The company lists the Snapdragon 820, 620, 618, 617 and 430. Unfortunately, this means no existing devices will gain this ability. Only new devices, scheduled for 2016, will gain the feature.
Quick Charge 3.0 AC adapters will be backwards compatible, however, so if you buy such a charger in 2016, it will still support version 1.0 and 2.0 devices at their maximum speeds.
Are you excited that battery-charging technology continues to move forward? Tell me in the comments.
Photo Credit: studio23/Shutterstock